insights | 31.10.2023
Winter is coming! Ten tantalising tips for getting ready for Black Friday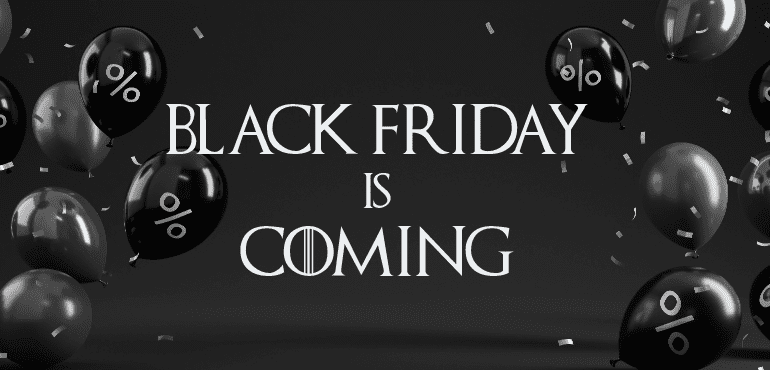 Article topics
The evenings are getting darker, and the temperature is dropping… winter is on the way!
This means it's nearly time for the busiest days in the eCommerce calendar – Black Friday and Cyber Monday
If you want to make a profit this Black Friday, preparation is critical. We've put together our top ten tips for getting your store ready for the online sales.
What is Black Friday?
Black Friday takes place on the fourth Friday in November, after Thanksgiving in the United States. Many eCommerce stores celebrate the date by offering discounted products.
It's followed by Cyber Monday the following week, meaning many eCommerce stores offer four days of sales and reductions. Some larger brands even launch their sales at the very start of November, resulting in an entire month's worth of bargains.
The term 'Black Friday' was initially used in the US to refer to the large number of people who went into the cities after Thanksgiving to do their shopping. Over time, the phenomenon spread to other countries. Nowadays, rather than queue outside their favourite stores, shoppers can buy online and take advantage of bargains from anywhere in the world.
£4.81 billion was spent online during Black Friday in the UK, with an extra £1.46 billion spent on Cyber Monday.
Why is Black Friday so important in eCommerce?
While stores are not obligated to participate in Black Friday and Cyber Monday, it can be a great way to generate sales and revenue. 39% of people put money aside specifically for Black Friday, so it makes sense to encourage them to spend their cash in your store.
Discounted products can often act as a 'loss leader', encouraging shoppers to check out your store. While they're there, they may buy full-price items. With nearly half of people shopping for things they've wanted for a while, this means they may buy whether you reduce these prices or not.
Another advantage of Black Friday is that you can use it to get rid of off-season and slow-moving inventory. By offering discounts, you can free up warehouse space and invest in brand-new products. Alternatively, if you're launching a new product line, you can use Black Friday to drum up publicity.
Black Friday also traditionally signals the start of the Christmas shopping season. This means if you can capture the attention of new customers on Black Friday, they're highly likely to have you in mind when they start their festive shopping, as well as for the upcoming year.
What discounts should I offer?
It's hard to say, as it depends on the products you sell, the customers you sell them to, and what you want to achieve from your Black Friday efforts. For example, if you're using the day as an opportunity to clear old stock, you may be more willing to offer a larger discount.
You also need to consider your overheads. If you offer free shipping, will reducing the cost of your products mean you lose out on every sale?
Some of the popular discount strategies used include:
Per cent-based discounts (e.g. 15% off everything)
Spend-level discounts (e.g. spend £50, get 10% off)
Bundle deals (for example, buy these three products together for £xx)
Free or expedited shipping on all orders
Look at your previous sales to get a good indication of the pricing patterns you should use. If you held a flash sale or summer sale earlier in the year, check out the data to see what shoppers responded well to.
When should I get ready for Black Friday?
As soon as possible!
Many shoppers start researching the best deals as early as October. This means you should start marketing as early as September to have a good chance of these prospective customers checking out your deals.
If you plan on using search engine optimisation (SEO) in your Black Friday marketing strategy, you may have to start even sooner. This is because while SEO is highly effective in helping you rank in the search engines, it can take time to work its magic.
Left your Black Friday marketing to the last minute? The best thing you can do is quickly optimise your site to ensure it's ready for Black Friday traffic. Join us now as we look at how to do this, as well as nine other fantastic tips for maximising your marketing efforts.
1. Make sure your website is ready and raring to go
Ecommerce retail stores saw a 70% boost in online sessions during the Black Friday period last year. This means it's crucial to make sure your website is well-equipped to receive additional traffic.
You don't want your website to go down during the busiest shopping period of the year!
Here's a checklist to make sure your eCommerce store is fighting fit in time for Black Friday.
Avoid rolling out any new features or website changes in the run-up to Black Friday, just in case they cause any issues
Load-test your website to make sure it can handle an upsurge in traffic. There are free and paid-for platforms available that can do this for you
If you get a lot of international traffic, consider a content distribution network. Alternatively, load-balancing software or hardware can distribute traffic evenly between multiple servers
Check your page load speed to make sure your customers don't have to wait around to get the latest bargains
Set up monitoring tools so you get an alert if your website goes down or there's a performance issue
Test your checkout and payment system to make sure there are no problems with taking and receiving payment
Make sure your website is up to date with all the latest updates and security patches, and schedule regular backups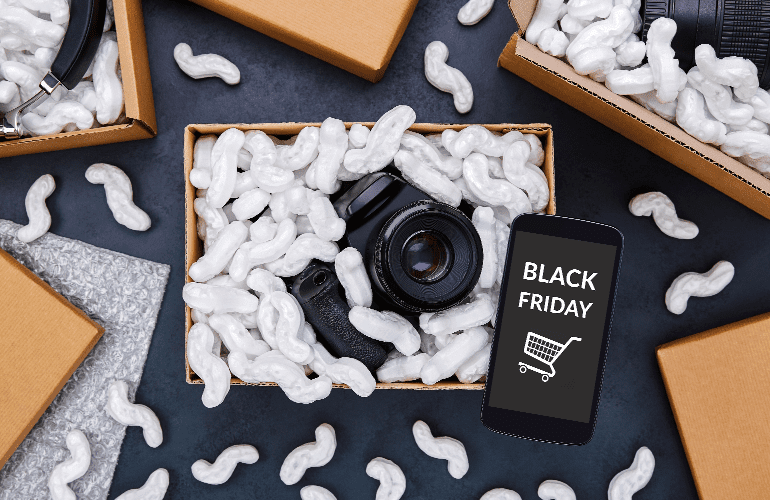 2. Add your discounted products to Google Shopping
Over two-thirds of online experiences start with a query entered into a search engine like Google or Bing.
This means a strong search engine presence can help drive potential customers to your eCommerce website.
An excellent place to start if you want to showcase your store in Google is through Google Shopping. When customers search for a specific keyword, you can bid a small amount of money for your product to appear at the top of the search engine results.
Google Shopping ads account for 85% of all clicks on Google Search, making them a fantastic way to increase sales and find new customers.
You can even use Google Shopping without paying for advertising. Rather than appearing at the top of the search engine results, your products will appear in Google's Shopping tab.
3. Consider marketplace sites
Amazon was the top retailer of Black Friday 2022, with nearly one in five Black Friday sales attributed to the global brand.
Marketplaces can be an easy way to make money on Black Friday, especially if your brand is new or your budget is small. Marketplace sites like Amazon, eBay, and Etsy invest heavily in online and offline marketing, making it easier to get noticed during the busiest shopping period of the year.
Of course, there are downsides to using marketplaces. You have to pay a commission, and customers typically look for the biggest discounts. This means that while you might see a boost in sales, marketplaces are not ideal if you want to grow your customer fanbase.
Website platforms like Shopify and Magento let you integrate your marketplace account with your eCommerce store, providing you with the best of both worlds.
4. Plan your email marketing
When determining your Black Friday marketing strategy, it's essential to identify which marketing platforms you'll use to spread the word
Email marketing is responsible for one in five website visits during the Black Friday sales. It's a fantastic way to reach out to the customers most likely to buy from your business and tempt them with content personalised to their specific needs.
With an email marketing campaign, sending multiple emails is essential for nurturing your customers and building momentum. By sending just one email on the day, you risk your customers missing out on what you have to say. 84% of businesses send at least two emails per week in the run-up to Black Friday.
Here are some additional things to consider when planning your Black Friday emails:
Use your previous email campaign data to determine the best days and times to send and which subject lines to use. Your customers will get lots of emails over the Black Friday and Cyber Monday period, so you want to stand out
Segment your customers and send them different email content. For example, you can reward your most loyal shoppers with exclusive early access to your Black Friday store. Alternatively, you can tempt infrequent shoppers back with an additional discount code
Ensure your campaigns look good on mobile. 78% of web traffic and 48% of sales during Black Friday 2022 came from mobile devices
Don't be afraid to create a sense of urgency with wording like 'last chance', 'time is running out', and 'limited stock'
Want additional help setting up your Black Friday email campaign? Get in touch with our expert team!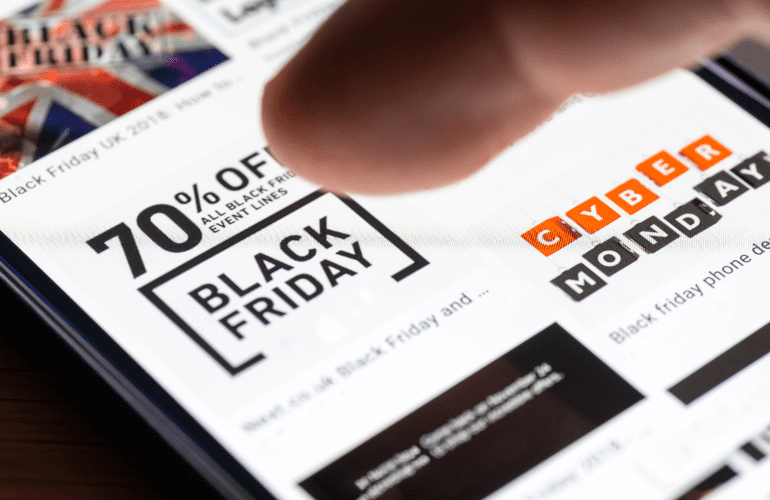 5. Consider how to tempt customers back to your store
One of the easiest ways to make sales on Black Friday is to give your previous web visitors a gentle nudge. You can do this through abandoned cart emails and retargeting ads.
Nearly 70% of online shopping cart purchases are abandoned. Customers do this for several reasons. For example, they may plan to come back and buy the item later, or want to shop around for deals before they commit.
If your customer has logged into their eCommerce account, you can send them an automated email reminding them that they have a product in their cart and need to move quickly before someone else snaps it up. If you're feeling generous, you can even offer an additional discount to sweeten the deal.
The abandoned cart recovery rate is between about 2 and 5%. This means that for every 100 abandoned cart emails you send, between two to five customers will come back and place an order.
Alternatively, you can use retargeting ads. This is when you use paid social ads or the Google Display network to target audiences who have already looked at product pages on your website. Retargeting ads have a 0.7% click-through rate – this might not sound like a lot, but it's an incredibly powerful way of raising brand awareness for a low cost.
6. Use social media to your advantage
Over a third of shoppers look for Black Friday deals on social media. This means it's well worth promoting your Black Friday and Cyber Monday offers across your social media accounts.
Like email marketing, it's worth starting your campaign as early as possible to capture customers' attention.
Social media is great for thinking outside the box and trying new things. For example, you can use influencer marketing to introduce your brand to new customers or launch competitions and giveaways to boost engagement.
You can also utilise lookalike audiences with paid social media advertising. This means your ads appear to people who are similar to your existing customers and, as a result, are more likely to be interested in your Black Friday deals.
7. Prep your upselling and cross-selling strategy
A great way to see success on Black Friday is to encourage your existing customers to spend more. Cross-selling (where you sell additional items) and upselling (where you persuade customers to buy an upgraded product) can give your average order value a welcome boost.
In fact, upselling can increase your revenue by up to 43%.
Personalisation is critical when determining which items to upsell and cross-sell. Nearly half of shoppers say their online experience would be improved if eCommerce stores considered their past purchases when offering deals.
Most eCommerce platforms come with extensions you can use to effortlessly offer the right products to the right people.
8. Give your product pages a makeover
During Black Friday, your product pages do most of the heavy lifting. It's vital that they look good, function well, and provide prospective customers with all the information they need.
Before the Black Friday rush, audit your product pages. Check that:
They contain captivating images and videos, compressed enough to ensure fast page loading
The product descriptions are detailed and compelling. Bear in mind that the more information you can provide, the less likely you are to receive returns
Reviews are made available on each page. Also, consider other trust signals like awards, accreditations, user-generated content, and case studies to show your eCommerce store is reliable and credible
The sales pricing is correct. You don't want to accidentally sell a £300 product for £30! Also, make sure that the shipping and delivery information is visible and accurate
Each page has a unique and engaging page title and meta description. These will help your product pages stand out in the search engines
9. Prepare your customer service team
You've optimised your website and got your marketing channels ready. But what about your customer service team?
A great customer experience is important at any time of the year, especially during high-sales periods like Black Friday and Cyber Monday. 90% of shoppers who receive excellent service on Black Friday will shop with a retailer again, while only 37% of shoppers who receive 'okay' service will.
It's highly likely that the number of enquiries and returns you receive will increase, so ensure you have enough people available to manage your phone lines and inbox. An automated chatbot can be an excellent way of dealing with basic questions so your team can handle more complicated queries.
Also, ensure your team knows what products are on offer, what you've discounted, and by how much.
As well as preparing your team, it pays to have a plan B in place. What will you do if something goes wrong in the run-up to, or during, Black Friday?
For example, in 2022, many retailers were hit hard when Royal Mail announced strike action at the end of November. This led to delivery delays and many eCommerce stores scrambling to find alternative courier services.
You won't be able to prepare for every eventuality – after all, who anticipated a global pandemic at the start of 2020? However, a risk assessment can help you identify the severity of all the potential issues you may face and what you can do to lessen the blow.
10. Look at what went right (and what went wrong)
The sales are over, you've counted your money, and your team are starting to open their advent calendars. Goodbye Black Friday, hello Christmas!
It's vital to assess the success of your Black Friday sale, as well as see what you can do to improve in future years. After the rush has died down, ask yourself the following questions:
How many products did you sell, how much revenue did you generate, and what was the average order value?
What feedback did you receive from customers about your Black Friday sale? Was it positive or negative?
How did your individual marketing campaigns do, and what percentage of your Black Friday sales did they generate?
How much did traffic to your website increase? Did you experience any problems with site performance or speed?
You can get data from Google Analytics and any other marketing platforms you use. Check your emails, social media profiles, and customer relationship management (CRM) system for customer feedback and reviews.
Getting ready for Black Friday and Cyber Monday can feel daunting. However, by being methodical and preparing as far as advance as possible, you can deliver a campaign shoppers will love.
If you're already gearing up for Black Friday…. The very best of luck!
Want to see how Xigen can help you optimise your store for the most sales?