insights | 11.12.2020
SEO For eCommerce: Why Your Business Needs It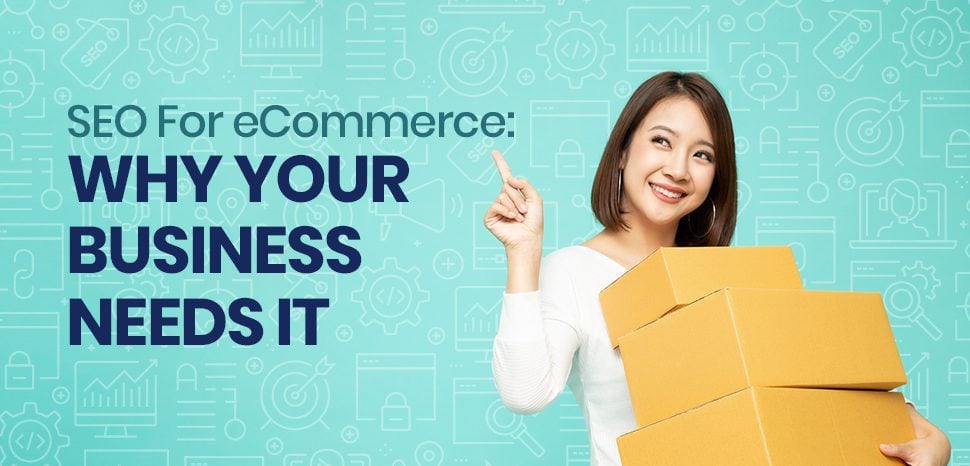 Article Topics
In an increasingly competitive eCommerce landscape, visibility is imperative for business websites, and search engine optimisation (SEO) plays a huge role in achieving this.
Search engines have such a powerful role in the digital age when it comes to potential customers discovering your business—and as that power grows it has advanced the importance of SEO for eCommerce.
Whether you want to learn more about what SEO can achieve for your existing eCommerce business, or whether you're looking to take your offline business online, this article can help.  
The definition of search engine optimisation
SEO can be defined as the process by which the volume of traffic to a website is increased by improving it to attract better results on search engines. However, it's not just the amount of traffic that's targeted—it's also the quality.
An eCommerce business needs to ensure it features as high as possible on the results returned by a search engine—referred to as a ranking.
However, SEO can mean so much more for your business and can provide more value than just elevating your eCommerce website up the rankings. Let's take a closer look at some of the key benefits of search engine optimisation for eCommerce.
10 benefits of SEO for eCommerce businesses
1. Enhanced user experience
It's not all about quick wins to elevate your eCommerce website up the rankings for the short-term. As a business owner, you'll understand the importance of catering for the customer. Happy, well-serviced customers tend to return to buy from you time and time again and also recommend your products and services to others.
You might be wondering where SEO comes into this? In order to achieve great rankings and visibility, user experience is also taken into consideration by search engines such as Google. How? It's simple really. If your brand is providing answers to questions your potential customers are asking in a streamlined and concise way, search engines will look on you favourably.
Optimising your eCommerce website and its copy to successfully answer consumer questions will help improve user experience.
2. Build trust
Authority and trust are vital for a website to be a credible, reputable source of information. This is no different when it comes to eCommerce. As a consumer, do you visit or buy from websites that aren't easily searchable or seem suspicious?
You wouldn't buy from an untrustworthy website, so you know your brand needs to build trust and credibility. This can be achieved with a robust SEO strategy. Build an easy-to-navigate site with a great user experience and you'll be well on your way.
Include authentic, optimised website copy, with informational blog posts and quality backlink profiles, and you'll also build positive user behaviour. This will take time, work, patience and, most importantly, consistency—so stick at it and you'll reap the rewards.
3. Heightens organic search
We've established that being searchable is important, so put in the organic work and search engines (most importantly, Google) will reward you for your efforts. Organic search is a massive aspect of a business's website and its resulting performance, including those all-important conversions. Put simply, make it as easy as possible for new customers to find you.
4. Affordable investment
The affordability of organic SEO is a huge benefit for your business. Yes, a good eCommerce SEO strategy will cost, but with the wider picture of your business expenses in mind, this can be a relatively small amount. The increased credibility, traffic flow and conversion rates that come with strong organic SEO will see a healthy ROI.
5. Increased engagement
Optimise your SEO for local search and you'll be able to achieve increased engagement, traffic and conversions for a specific area—especially exciting in this age of increased mobile searches. Focus on localised SEO and you'll offer users a swift leg up to find what they're looking for in your products and services, helping them get closer to purchasing with you.
6. Simple to measure
Another benefit of SEO for your eCommerce business is you can easily measure the success of your efforts. Implement robust tracking tactics and quality analytics tools and you'll be able to better understand user behaviour and how you can enhance your strategy for success. With greater data at your fingertips, your brand can evolve and thrive.
7. Long-term evolving strategy
As we've already covered, while great SEO can provide consumers with impressive quick wins, it's not just about the short-term. Businesses with a strong eCommerce SEO strategy will feel the benefits of a long-term approach that works with them as they grow.
Within your first year of adopting a search engine optimisation strategy you'll hopefully experience positive results. But it won't stop there. The SEO foundation you build with honest best practices and great UX will never stop being beneficial.
Follow that up by keeping on the pulse of SEO trends and you'll set yourself apart from the competition in a busy digital world.
8. Strive for page one
It's no secret that getting your eCommerce website on page one of all search engines is the ultimate goal. Be honest, have you ever clicked beyond the first page of results on Google when you've searched a topic, product or service? If so, how often?
SEO practices are designed to help your eCommerce website get there and stay there. Great organic search strategies can deliver on this goal—even in competitive markets—so keep working at it, collaborate with experts and hone your content to achieve your page one goal.
9. Fresh opportunities
Hiding in the background is never going to present your business with new opportunities.
The more your brand's eCommerce site is discovered, the more opportunity you have to project what you offer and showcase your brand.
Implement organic SEO practices into your strategy to broaden your horizons.
10. Capture users in the buying cycle
Again, you must appear in searches to give your brand and business opportunities. If you've optimised your website to appear in searches for the products or services you sell, potential customers will inevitably find you when they engage in the buying cycle.
Get your eCommerce website out there and you give yourself the very best chance to compete with your competitors. Get your messaging spot on to drive traffic to your website, increase consumer engagement and lift conversion rates.
Final thought
Hopefully this article has convinced you about the positive impact organic SEO can have on and for your eCommerce business. Get the fundamentals right and you'll put your brand and business in the best possible place for growth and evolution in the digital landscape for the long-term.
Our SEO experts work holistically on strategies that get results for specific industries and brands. Contact us for a chat and we can work with you to create the right SEO strategy for your eCommerce success.