insights | 18.05.2021
Top 8 eCommerce Outsourcing Ideas
Article topics
An eCommerce business is made up of many moving parts, and each part must be well managed to keep things running smoothly. It can sometimes feel like spinning plates—take your eye of one plate for a moment and it will fall to the ground and smash. If this happens in your business, you risk incurring additional costs, lost revenue and unhappy customers.
A way to relieve some operational pressure is to employ a 3rd party to manage certain aspects of your business. Outsourcing eCommerce elements to expert partners can save money, in terms of wage bill, premises and time. Hiring technical, creative or logistics specialists may be worth considering to help streamline your eCommerce business.
Webstore creation and hosting
This is perhaps the most obvious and most common example of eCommerce outsourcing. There aren't many eCommerce businesses that have the expertise and resources to build and run their own webstore. A business that specialises in, for example, jewellery, building supplies or catering equipment, or whatever it might be, probably isn't going to have the in-house expertise, or the inclination, to build and host their webstore.
The important things to consider about your webstore are:
What are the ongoing costs?
Is it fast enough?
Is it optimised for conversion?
Does it have the capacity to scale during spikes in demand without impacting UX?
Is it getting the latest security updates?
If you are not happy with an aspect of your webstore you might want to consider a different approach. That's the beauty of eCommerce outsourcing—you can make changes if things aren't performing as well as you would like.
For example, it might be cheaper and improve webstore performance to migrate from a legacy on site hosted platform to a software-as-a-service (SaaS) platform or cloud-based hosting.
SaaS is where your development partner hosts and maintains your webstore's backend and you access the frontend from anywhere with a Wi-Fi connection, all for a single monthly payment.
Cloud hosting on virtual servers, such as Amazon Web Services (AWS), will ensure that your webstore has faster page load speeds, is more resilient to traffic surges and outages, and is more secure.
Product listing
Depending on the size of your business and the resources that you have, ensuring that all of your products are listed correctly and in a timely way can be a challenge. There's a lot to do. You have to photograph new products and upload images, create copy and listing specs, tag products, remove products, check product pricing, manage seasonal and promotional product changes, the list goes on.
The question to ask is: would outsourcing product listing, or elements of it, be more cost effective that doing it all in-house?
Outsourcing product photography to a professional service will not only save you the job, it will ensure that your product images are high quality, helping to maximise consumer engagement.
Creating product copy and specs can be time consuming and labour intensive. Outsourcing this to a partner business or a pool of freelancers could prove to be cost effective, especially if your inventory changes a lot and to keep existing listings fresh. A single person within your business could manage the whole outsourced process.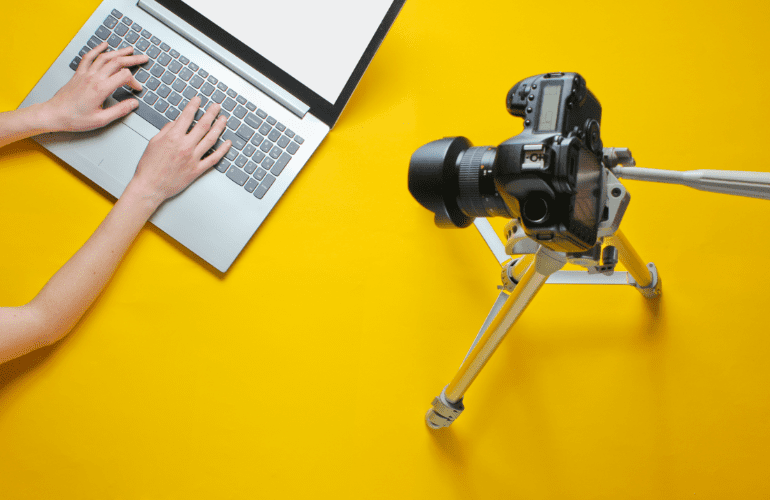 Blogging
Creating blogs will help showcase your business's knowledge and expertise about your products and sector to consumers and other businesses, and it can help improve SEO.
By writing about related topics, issues and concerns you will be contributing to, and even leading, conversations about what matters to consumers interested in your products and brand, while differentiating your business from your competitors. Blogging regularly will promote your brand and business as a leader in your sector.
Blogging will help drive traffic to your webstore and make great social media content. And it doesn't have to be confined to blogging, vlogging might suit your brand and style better.
That's all well and good. But it takes time and resources to create this type of longer form content, especially creating and editing vlogs. Because of this, blogging and vlogging are prime candidates for eCommerce outsourcing.
There are two main options here. You could either use a marketing agency to create your blog/vlog content or use specialist freelance writers and video production. Again, your decision should be based on the benefit that outsourcing would have for your business and the cost and time savings of outsourcing vs. keeping it in-house.
Always ensure that you assign an employee who knows your products, brand and sector inside out to liaise with your agency or freelancers.
This HubSpot article highlights what skilled blogging can achieve.
Order fulfilment
One of the most important and costliest elements of your eCommerce business is order fulfilment. Outsourcing to a 3rd party logistics (3PL) provider can make life a lot easier. Your stock orders are delivered directly to your 3PL partner, your order goes through to them, and they pick, pack and ship it to your customer. Some 3PL services will offer some customer support and process returns.
Using an order fulfilment service means that you don't have to lease and staff a large warehouse. And if you have customers around the world delivery times will often be shorter and cheaper, as fulfilment centres are located closer to the customer.
You don't need to worry about scaling up either. As your business grows you simply rent more warehouse space from your 3PL partner rather than having the headache of finding new warehouse space yourself.
The 3PL process looks like this:
Your products ship from your suppliers to the 3PL provider
A customer places an order via your webstore
Your webstore sends the order to the 3PL
The 3PL ships the order to your customer
You pay the 3PL a monthly fee and usually a per order fulfilment cost
There are many 3PL service providers to choose from and which one is the best fit for you will depend on your specific business needs. Here are some examples: 3P Logistics, Parcelhub, Torque and Huboo.
Search engine optimisation
One of the main drivers for customer acquisition is your webstore's findability, so ensuring that your webstore is search engine optimised should be a priority. Most marketing agencies will offer SEO services and will use keywords, optimise for voice search, use topic clusters and technical SEO. These SEO techniques require skills and tools that you may not have access to, so outsourcing SEO can be a good call. Organic search accounts for 53% of webstore traffic.
Pay per click
Pay-per-click (PPC), or search engine marketing (SEM), is the opposite to organic SEO, in the sense that it involves paying for higher search page ranking (so is not organic). You will have seen the ads that appear at the top of your Google searches. Businesses have paid Google for that advantage. The aim is to serve up targeted search results to consumers who are already interested in your types of products or services.
Successful PPC and SEO require specialist skills. When considering outsourcing PPC and SEO, it comes down to whether or not you want to allocate resources to managing them or let an experienced marketing agency work on it for you. 65% of all high-intent searches result in a PPC ad click.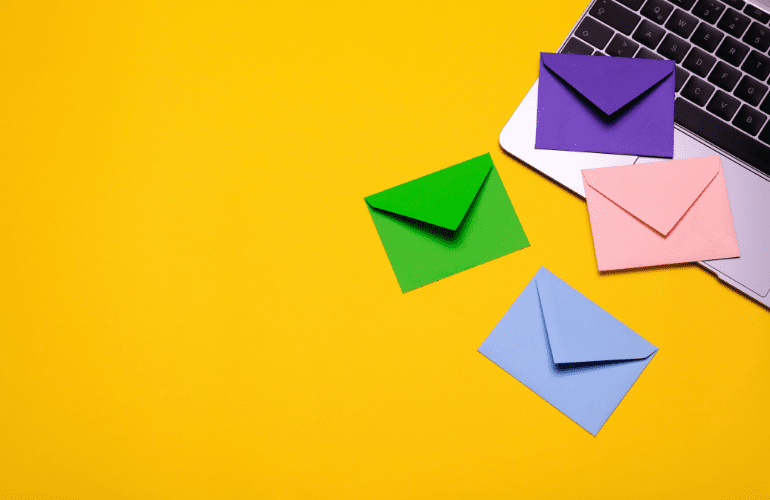 Email marketing
Creating engaging and effective marketing communications can help build your brand and increase conversion rates. Email marketing gives eCommerce businesses the opportunity to reach out to customers in a variety of ways:
Sharing news about your brand and business is a straightforward way to engage with your customers, sending out regular newsletters and updates
Automated cart recovery emails remind customers about their abandoned shopping cart—a gentle reminder can often persuade the customer to revisit their cart and convert
Targeted marketing emails offering personalised special offers or recommendations based on shopping history are an effective way to engage customers and drive traffic to your webstore
Creating and managing your marketing emails can be time consuming and requires the use of email marketing tools such as Mailchimp or Campaign Monitor. These tools are used to design emails with engaging images and content, create segmented send lists, schedule delivery, and offer analytics to gauge the success of campaigns with metrics such as open rate, click-through-rate and bounce rate.
Although training in-house for email marketing could be an option, outsourcing to an email marketing agency that has skilled email designers is the right option for many eCommerce businesses. Or for flexibility, consider using freelancers for your email marketing needs. Remember, having well designed, professional looking email communications increases customer engagement and helps project the right brand persona.
Social media
Social media is vital for increasing brand exposure, generating new business leads and nurturing customer relationships. But managing social media channels is a full-time job. It requires a constant stream of content as well as constant monitoring to ensure that your customers are engaged, to measure the success of your social media campaigns and to plan your social media strategy.
As a business, you want to generate leads and maximise sales. However, when it comes to social media, it's important to find a careful mix of sales-based posts and posts that are more valuable to your audience. Social media is about conversations and as such should be more brand focused than product focused.
Outsourcing your social media strategy and management to a professional agency will not only save cost and time, it will ensure that your brand is presented in the right way for each channel. Not only that, a social media management agency will carry out research into your customer base to help maximise engagement.
It's important to note that if you decide to outsource your social media you should work closely with your social media management partner to ensure that they are projecting your brand in the right way, and that you are able to set KPIs by which to measure performance for each of your social channels.
Final thought
eCommerce outsourcing can save money and resources, taking pressure off certain areas of your eCommerce business that are specialised or labour intensive. Before you go ahead and outsource any part of your business it's important to shop around and to meet with and discuss in depth what your expectations are and what your outsourcing partner can offer.
Ultimately, outsourcing is about increasing efficiency, cost saving and freeing up you and your people to get on with running a successful eCommerce business.
Have you considered eCommerce outsourcing? If you would like to know more about outsourcing webstore development and hosting, optimisation or digital marketing, then get in touch today for a chat with one of our eCommerce experts.