insights | 25.07.2023
The big eCommerce guide to Shopify
When you sell online, it's important to choose the right platform for your specific requirements.
One of the eCommerce platforms available is Shopify. Used by businesses including Gymshark, Nescafe, Red Bull, and Heinz, it's well-loved for its ease of use and flexibility.
However, is it the right option for your eCommerce store?
Join us as we look at the advantages of Shopify, how much it costs, and whether your eCommerce business can benefit from the functionality it provides.
Article topics
What is Shopify?
Shopify is an eCommerce platform that allows organisations to create and manage an online store. It's estimated that 4.4 million businesses worldwide use it to power their eCommerce websites.
Shopify is a cloud-based Software as a Service (SaaS) platform. This means that it is hosted online rather than on a physical server. As a result, you can access and edit your Shopify site from anywhere in the world.
What can you sell on Shopify?
You can use Shopify to sell both physical and digital items. Businesses use the platform to sell everything from club memberships and online courses, to crafted goods and hotel stays!
However, there are some things that you're not allowed to sell on Shopify, including animals, prescription drugs, weapons, and hazardous materials. There may also be additional restrictions in your country surrounding the sale of alcohol and tobacco.
What are the advantages of using Shopify?
Shopify makes it easy to sell online, and means you don't have to rely on third-party marketplaces like Amazon, eBay, or Etsy.
Here are some of the benefits of using Shopify for your business.
It's easy to get started
Creating a new website, especially an eCommerce one, can be daunting. There's hosting to arrange, templates to build, and thousands of files and images to upload!
The good news is that Shopify is regarded as one of the easiest eCommerce platforms to get to grips with. This means even users with minimal web design and development experience can create a responsive, good-looking website.
It's affordable and comes with lots of features
As Shopify is SaaS, there is a monthly fee to use it; we'll look at the different pricing tiers later in this article. However, this charge covers:
Hosting
Use of the Shopify platform
Use of the Shopify mobile app so you can manage your store on the go
Secure checkout and access to a payment platform
Access to a catalogue of free Shopify apps
Updates and security patches
Customer support
This makes Shopify great if you have a small marketing budget, as you know exactly how much you need to pay and when, and you don't need to worry about any unexpected costs.
And as updates and security patches are applied as standard, you have the peace of mind that your website is always protected.
You get excellent customer service
As developers, we have had to get in touch with Shopify several times, and we're always impressed with how fast and helpful the team is!
Shopify is well known for its customer support, which is available no matter which pricing tier you opt for. You can reach out by email, through live chat, on social media, and even by phone. There are also in-person events and webinars so you can fine-tune your skills and learn about the latest features.
One of our favourite places to check out is the Shopify online forum, where you can speak to people who have had the same issues as you and see what they recommend.
It's adaptable to your needs
No two websites are the same, and you might be looking for functionality that other websites in your industry might not need. For example, the ability to offer dropshipping, or a customer loyalty scheme.
Shopify offers a wide range of apps, both free and paid-for, that add extra features to your site. Choose the app you want, install it, and access it from the apps page of your Shopify website. Job done. You can even hire a developer to build a custom app for your store if you want something bespoke.
As an example of what you can do, take a look at these fashion sites that have been developed using Shopify. There is plenty of scope to design a website that represents your brand and has all the features and functionality you need.
What are the disadvantages of using Shopify?
While there are some fantastic benefits to using Shopify, it does have some disadvantages. Here are some scenarios where Shopify might not be suitable for your needs.
There's less control over your site
There are advantages to Shopify being a cloud-based subscription service, but this also puts certain limits in place.
Shopify is not very compatible with other platforms as it uses its own unique coding. This means that if you want to move to another platform in the future, you may have to build your website from scratch.
You also can't directly manage the server environment, meaning you don't have as much control over the infrastructure as you would with a self-hosted website.
Finally, as you are reliant on third-party apps to create additional functionality, this can potentially cause issues. For example, if two apps from two different developers aren't compatible, this can adversely affect your store's performance.
It's harder to scale
One of the frequent criticisms about Shopify is that it is hard to scale as your business grows and evolves. This is because there are limitations in place, like only having up to 1,000 inventory locations and one public storefront. While there are apps in place that offer additional functionality, there are limits to what they can provide.
Shopify does have three pricing tiers, and you can move along them as your business scales. However, there may come a point where Shopify is no longer suitable for your needs.
There is an alternative option though if you are expanding your business and still want to use Shopify – Shopify Plus. We'll look at this in more detail later.
It's not the best option for SEO
Search engine optimisation (SEO) is the science of making changes to your website to help it rank in the search engines. If you want people to discover your pages in Google and Bing, SEO needs to be an essential part of your digital marketing strategy.
Shopify has some features that can hinder your efforts to rank on the first page of Google. For example, you can't make changes to your sitemap, the URL structure is not optimised, and Shopify creates duplicate pages by default, which can cause issues in the search engines.
Utilising too many Shopify apps can increase page loading speed. This can lead to poor website performance and negatively impact where you rank in the search engines.
Can you integrate Shopify into your existing website?
Yes, you can.
Let's say you have a WordPress website for your business, and you decide to start selling online. While you like how Shopify works, you don't want to move your existing website to the platform. In this scenario, you can take advantage of the Shopify plugin.
The Shopify plugin allows you to host an online store and sell your products on your WordPress site. This gives you the best of both worlds, allowing you to keep your existing site's look and feel while using the functionality that Shopify is well-known for.
There are also similar plugins available for Magento and Adobe Commerce.
How much does Shopify cost?
Shopify offers three different pricing tiers depending on your needs: Basic, Shopify, and Advanced. Here's what you can expect to pay for each tier: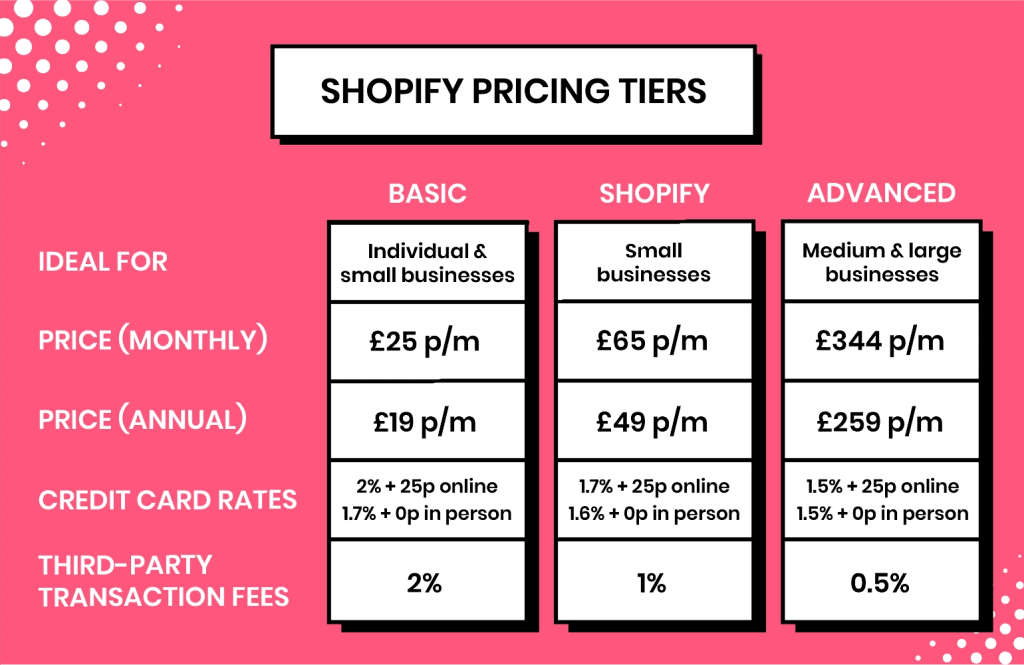 The credit card rates are for if you use Shopify Payments, while the third-party transaction fees are if you use an alternative payment processor like PayPal or SagePay.
It's important to remember that while Shopify is more all-inclusive than other eCommerce platforms, you still need to consider additional costs.
For example, you still need to pay for your domain address, as well as for any paid-for apps you opt to use. Shopify also doesn't offer email hosting, so if you want a custom email address for your store, you'll need to pay extra for this feature too.
While there isn't a free version of Shopify, you can get a free or reduced-price trial to see if it is right for you.
Alternatively…
Are there any other pricing options?
Yes, there are. As well as the three pricing tiers listed above, Shopify also offers two additional pricing options: Starter and Shopify Plus.
The Starter plan is designed for smaller businesses that sell through social media or want to try Shopify before committing to one of the other tiered solutions. Users can create a basic store, and share the link with customers. It costs £5 a month, with 5% transaction fees.
On the other side of the eCommerce spectrum, Shopify Plus is designed for larger international businesses that sell a lot of products online. It's ideal if you use and enjoy Shopify, but have scaled to the point that it's no longer suitable for your requirements.
With Shopify Plus, you get:
A dedicated account manager
Expedited customer service
More inventory locations and online stores
No transaction fees if you use Shopify Payments
The option to implement headless architecture for more control over your site infrastructure
Costs vary depending on your business size and needs, but expect to pay upwards of £2,000 a month.
Does Shopify let you sell in person?
Yes. Shopify offers Point of Sale (POS) functionality so you can take advantage of omnichannel selling.
The three pricing tiers come with Shopify POS Lite included, which allows you to sell offline at events, markets, and pop-up stores.
If you have a brick-and-mortar store and make regular sales in the real world, you can upgrade to Shopify POS Pro, which costs £89 a month. Alternatively, there are other POS systems available that integrate with Shopify.
In conclusion: is Shopify right for your business?
Shopify has a lot of fantastic features and is easy to use. However, some businesses may prefer a more customisable platform that they have more control over.
In our experience, Shopify is a fantastic option for the following people:
Newly established businesses and startups. As Shopify is easy to get to grips with, it means new businesses can launch quickly and start selling straight away
Microbusinesses and business owners with limited digital experience. As Shopify is an all-in-one solution, smaller businesses don't have to worry about hosting, updates, and security patches
Retailers that want to move into eCommerce. Shopify makes it easy to link your physical and online store, meaning you can manage your inventory and keep track of your customers
Large, international businesses. While regular Shopify is not ideal for larger, more established businesses. Shopify Plus is designed to handle high levels of traffic and sales
Is Shopify ideal for everyone? No, especially if you want something complex or unique to your business. However, if you want a platform that is simple to learn and manage, it could be the perfect solution.
Xigen: Your Shopify specialist
Whether you want to build your brand new eCommerce store on Shopify, or replatform your existing site, it's best to rely on the experts.
At Xigen, we have several years of experience designing and developing Shopify stores for a wide range of businesses. We'll ensure your brand-new store is well-designed, loads quickly, and is SEO-optimised, giving you the edge in an extremely competitive marketplace.
Get in touch with us today and take the first step towards a seamless shopping experience.
Disclaimer: The information and pricing in this article are accurate as of July 2023.