Article topics
What is a payment gateway?
Payment gateway integration
Which payment gateway?
Stripe
PayPal
Amazon pay
SagePay
Braintree
Comparison Table
Security
Payment gateway compliance
Final thought
Are you happy with your business's eCommerce payment gateway? Or maybe you're an independent retailer considering opening a webstore? This article explores payment gateways and why they're vital for eCommerce success.
What is a payment gateway?
In the eCommerce payment process, there are multiple parties involved. There's the customer, your business, your bank, and there's the customer's issuing bank. Between your webstore and your bank is the payment gateway. This is the final page of the checkout where your customers to enter their payment method and personal details.
Your payment gateway encrypts the payment data and sends it to your bank, who in turn send it to the issuing bank for authorisation. The payment method is either accepted or declined and that decision is sent back to your payment gateway to either complete the transaction or end it.
Payment gateways enable you to process high volumes of transactions. They reduce the risk associated with processing online payments, protecting your business from invalid cards, and ensuring peace of mind for your customers, that their personal payment data is not going to be compromised.
Payment gateways create more seamless UX, as your customer transactions are processed quicker and with as few steps as necessary—in fact, most customers will be blissfully unaware of your payment gateway and the vital role it plays in their overall shopping experience.
Let's look a little deeper into what payment gateways do and how they work, and what to look for when deciding on which gateway to choose for your business.

Payment integration
One of the most likely places for friction in your webstore is at checkout. The lower the friction, the higher conversion rates will be. With that in mind, the more payment options you can offer your customers the lower friction will be in their shopping journeys. It's important to choose a payment gateway that has the flexibility and scalability to quickly respond to customer expectations, incorporating the latest payment methods and technology.
By far the most popular payment methods are, as you might expect, debit and credit card. The most popular cards are Visa debit and credit, followed by MasterCard, with other cards, such as Amex, following. Card payments account for 53% of UK eCommerce transactions. The next most popular UK payment method is digital wallet, which accounts for 25% of webstore transactions. Other transactions such as bank transfer and COD are well into single percent.
Alternative payment methods, such as PayPal and Apple Pay, offer consumers more choice. Not everyone wants to use a card or their bank account details when shopping online, and not all consumers have a credit card. A big benefit of alternative payment methods is for territories that have lower card use. Localising payment methods can give those consumers the confidence to convert, using a more familiar payment method.
The convenience that comes with application programming interface (API) software means that it's relatively straight forward to add new payment methods to your checkout without the need to carry out time consuming and potentially costly development.
An eCommerce business-friendly payment gateway will enable you to better integrate a variety of payment methods into your webstore, offering your customers more choice and seamless checkout experiences.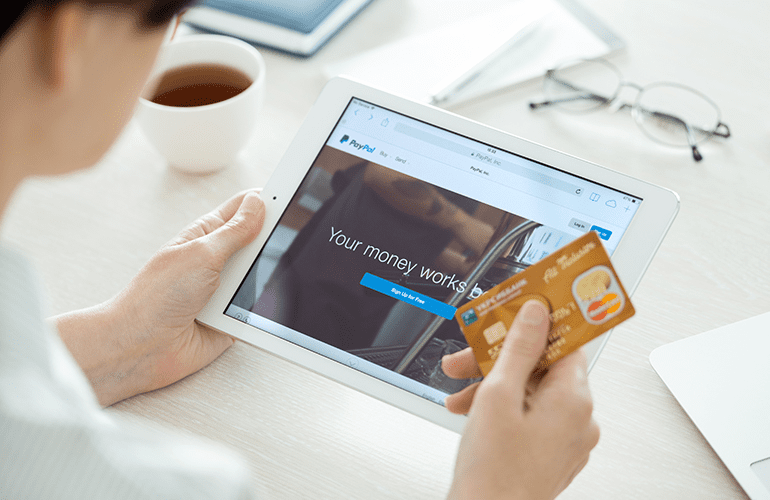 Which payment gateway?
There are many payment gateways available to eCommerce businesses and selecting the best fit for your webstore will depend on your business needs. Things to consider are fees charged by payment gateway providers and the complexity of the gateway itself in terms of features and functionality.
Let's look at some payment gateways and what they have to offer:

Stripe enables the customisation of payment pages for look and how they are navigated. This is great for streamlining UX and maximising conversion rates. Stripe will easily integrate with the elements of your webstore, such as shopping cart, invoicing, analytics and more, accommodating all major credit and debit cards in over one hundred currencies. Stripe's card transaction fees are competitive, although look out for higher refund charges.
The pros for Stripe are that it's customisable, it doesn't charge monthly fees, its transaction fees are competitive, its pricing is reasonably transparent and it's mobile ready. A con with Stripe is poor communication with businesses regarding held funds.

PayPal has been around for decades. The two standout strengths of PayPal are its easy integration into existing webstores and its reputation as a tried and trusted payment method. There were 300 million PayPal users around the world by the end of 2019, and it's still growing at a rate.
Because PayPal is such a recognised and trusted brand, for new eCommerce businesses that are establishing themselves it can help convey a sense of trust for consumers—PayPal transactions have 70% higher checkout conversion than non-PayPal.
Pros for PayPal are: it's easy to setup, no contracts or termination fees, it's compatible with popular eCommerce platforms such as Magento, WooCommerce and Shopify and is mobile ready. A con with PayPal is that it has suffered complaints from eCommerce businesses about holding funds for long periods and being slow to resolve issues.

Like PayPal, Amazon is a well-established and trusted eCommerce brand. Available since 2009, Amazon Pay's popularity is predominantly with small and medium businesses. It offers an onsite checkout option and enhanced fraud protection for businesses in the UK, Germany and the US. The Amazon Pay API integrates simply with webstores, for faster time to market and minimal cost.
Its features include 'buy now' button, it's mobile friendly, has relatively low fees and no contracts or termination fees. It also has higher satisfaction rates and good marketing transparency.

As one of the biggest payment gateway providers in Europe, SagePay (soon to become Opayo) has an good reputation. In 2019, SagePay processed £40bn worth of card payments for over 50,000 retailers, online and brick-and-mortar.
SagePay offers a dual level service: level one is for SMBs and level two is for enterprise business. SagePay enables eCommerce businesses to accept major cards as well as PayPal, in more than 25 currencies, offering a full suite of features, great security and transparent pricing.
The cons for SagePay are few, but two things to be aware of are its long contracts and its termination fees, and it isn't well suited to small, independent eCommerce businesses.

Although Braintree is owned by PayPal, it's independent and has its own operations and features, so shouldn't be considered as comparable to PayPal.
Braintree is highly customisable and would better suit eCommerce businesses that have development capability. This makes Braintree attractive to those businesses who want a highly scalable payment gateway option with the ability to optimise payment UX. This is a pro for some, but a con for others.
For improved customer personal information security Braintree stores credit card data on its own secured servers. This means eCommerce businesses don't need to use tokenisation, helping PCI compliance. Braintree's merchant support has a very good reputation too.
Comparison Table
USP
Contract
Rates
PCI compliance
Mobile-ready
Cons
Magento 2 Module
Shopify Module
WooCommerce Plugin
Sylius Module
Stripe
Simple,
fair
pricing
Monthly contract with no termination fee
Flat per-transaction rate (online) of 2.9% +30p
Yes - no fee
Yes
Held funds. No live customer support. SSL cert not included
Yes
Yes
Yes
No
PayPal
Recognised brand. Financing programme
Monthly contract with no early termination fee
Flat per-transaction rate (online) of 3.9% +30p
Yes - no fee
Yes
Held funds. Merchant support cost. Failed transaction fee
Yes
Yes
Yes
No
Amazon Pay
Recognised brand. On-site check out
Monthly contract with no early termination fee
Flat per-transaction rate (online) of 2.9% + 30p (less than £50k per month)
Yes - no fee
Yes
Reported lengthy verification process
Yes
Yes
Yes
Yes
SagePay
Dedicated SMB/Enterprise tiers
Contract with early termination fee
Variable rates
Yes - £100
Yes
Lack of marketing transparency
Yes
Yes
Yes
Yes
Braintree
Pricing transparency. A+ BBB rating
Monthly contract with no early termination fee
Flat per-transaction rate (online) of 2.9% + 30p
Yes - no fee
Yes
Some merchant complaints about held funds
Yes
Yes
Yes
Yes
Security
Your payment gateway should use point-to-point encryption. This will ensure that your customers' personal payment data is secure and protected from hackers during transactions. The cost of successful attacks such as card skimming can not only cost you financially but can have a significant impact on your brand and business's reputation, as consumers won't make the distinction between your webstore and third-party services.
It's very convenient for customers to be able to store their payment details such as multiple card numbers and delivery addresses in their account on your webstore. But this gives hackers a potentially lucrative target to mount an attack. The way to protect your customers' details and defend against such attacks is to ensure they your payment gateway can 'tokenise' customer payment data.
Tokenisation is a form of encryption, but it differs from point-to-point encryption in an important way. With tokenisation your customers' personal payment data is not just encrypted, it's replaced with a one-off code called a token. Tokens are transaction specific and in the event of a data breach can't be linked to a customer's account or personal information—tokens cannot be decoded.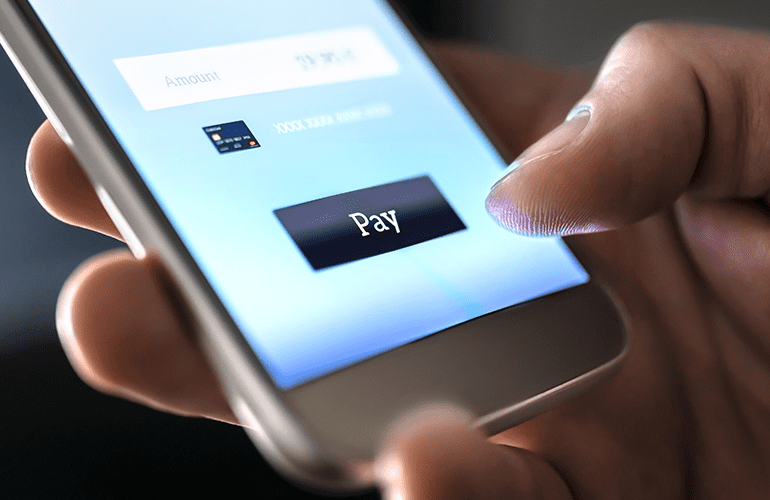 Payment gateway compliance
Data and transaction security are vital for eCommerce businesses. Your payment gateway will certainly give you peace of mind that your customers personal information is secure, whether that's during transaction or stored in your webstore. Another vital service provided by payment gateways is Payment Card Industry Data Security Standard compliance (PCI DSS).
PCI DSS compliance is the set of rules used to ensure that every eCommerce business, and brick-and-mortar business, that takes electronic payments is aligned to the same standards to ensure common and best practice. These standards were created by card providers to make sure all retailers offer safe and secure electronic payments. Compliance is important as it standardises payment processes for greater consumer protection.
PCI DSS compliance is handled by your payment gateway provider. This takes the pressure off and significantly reduces the pain points associated with the complexities and cost around compliance for eCommerce businesses.
Final thought
The key to finding the payment gateway for your eCommerce business is choosing a solution that best fits your needs. That might sound obvious but understanding what you want from a payment gateway will help you find one that works for you seamlessly and for the long term.
The size of your business and transaction volume are important considerations. If you are a small business, then Amazon Pay or PayPal might be a good fit. For bigger businesses SagePay will work better.
Your global reach is another important consideration—how many currencies do you need to process? Are their local payment methods that you should consider accepting? Customisation and scalability are also important factors for some businesses.
Understanding what payment gateways offer in terms of contracts and fees is important too, especially if your business is a start-up or has high volume transactions.
Ultimately, your payment gateway should be right for your business needs. But it should also offer your customers fast, seamless shopping experiences with a good choice of payment methods that they know and trust.
If you are a brick-and-mortar retailer that wants to get setup trading online, or if you are an existing eCommerce business that is unhappy with your payment gateway, then get in touch today for a chat with one of our eCommerce experts.
Back
Subscribe to our newsletter for the latest industry news and tips.
Thanks for signing up!
You will receive a monthly digest of must-read insights and key resources to use and share.