insights | 05.10.2022
Adobe Commerce headless architecture – how it can benefit your business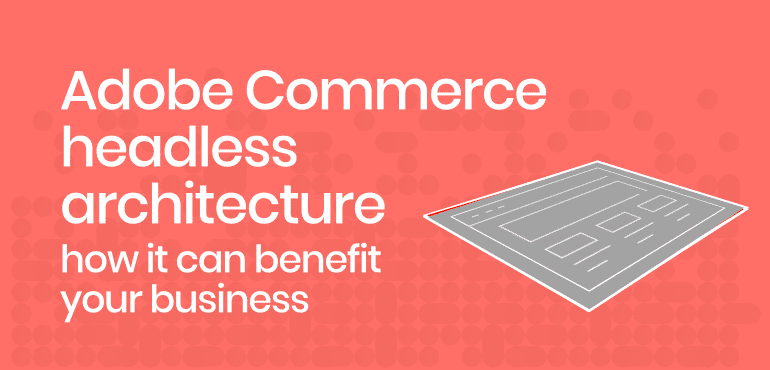 Article topics
Adobe Commerce headless architecture – how it can benefit your business
We're finding that many businesses are looking for a more flexible eCommerce experience that works across all their sales and marketing channels. If this is the case for your organisation, headless commerce (also known as headless architecture) may be a good option.
If you already enjoy the customisation that Adobe Commerce, formerly known as Magento, provides, headless Adobe Commerce may be the next logical step.
In this article, we'll look at Adobe Commerce headless architecture in more detail, and how it can help take your eCommerce store to the next level.
What is headless Adobe Commerce?
Like a theatre or a restaurant has a 'front of house' and a 'back of house', so does an eCommerce site.
The 'front end' is the part of the website that the customer can view and place orders on. The 'back end' consists of the servers, databases, operating systems, and APIs that power the site's front end.
In a more traditional unified or 'monolithic' eCommerce system, the front end and back end of a website are tightly linked together.
However, with headless architecture, the front and back end are separated, with an API used to communicate between the two. This means both website components can function in a more agile way, and eCommerce businesses can be much more flexible.
So, how does this apply to websites that use Adobe Commerce?
Adobe Commerce is one of the eCommerce platforms available that offers headless architecture to users. While Adobe Commerce is well-loved for its customisation options, one of the criticisms it has received in the past is how it performs.
As headless architecture helps improve site speed and makes websites more reactive, moving to headless Adobe Commerce can boost your eCommerce site's performance.
Adobe Commerce has its own framework called PWA studio, which supports a headless architecture and lets users build eCommerce stores as progressive web apps. Alternatively, developers can create their own bespoke frameworks using React or Vue Storefront.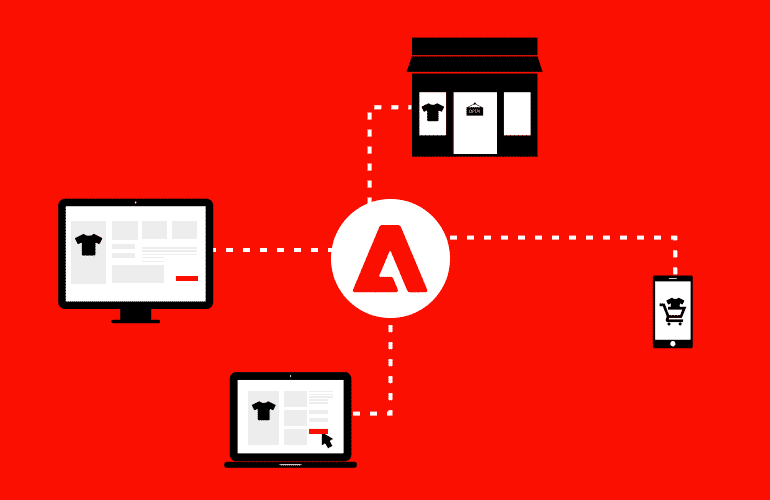 How can businesses use headless Adobe Commerce in their eCommerce stores?
Adapting Adobe Commerce headless architecture can provide several advantages to your business compared to a more unified eCommerce system. Here are some ways headless architecture can drive your eCommerce site forward.
1. It makes it easier to provide an omnichannel experience to shoppers
The flexibility headless architecture delivers makes it easier to provide differentiated shopping channels to customers.
People now want an omnichannel experience when it comes to shopping with their favourite brands. By omnichannel, we mean the ability for customers to search, shop and buy products seamlessly on their desktop, mobile phone, and in-store.
For example, a customer could be browsing a company's Instagram shopping feed on their commute from work. When they get home, they look at the company website on their computer. Then, they order online at the weekend using their mobile phone, and pick up their items at the company's brick-and-mortar store.
Adopting an omnichannel strategy can yield significant benefits to your business. Ecommerce companies that use at least three omnimarketing channels see a 250% higher purchase and engagement rate.
2. It makes it easier to scale your website
As headless Adobe Commerce architecture separates the front and back end of your website, it makes it easier to implement changes that can help your business evolve.
For example, as features can be added and tested independently, you can implement brand-new features without them negatively affecting the rest of your site.
With unified systems, changes to the front end of the system require changes to the backend of the system, and vice versa. For example, if you want to add a new feature to the website, your developers need to amend the code in the backend. This makes it much more difficult to make small, frequent changes in line with the agile methodology that many businesses rely on.
3. It means you can offer new ways for customers to interact with your business
Technology is moving quickly, and eCommerce businesses need to keep up with the latest developments. For example, augmented reality (AR) lets shoppers try on sunglasses, try a new hair colour, and see if a sofa complements their living room, with a touch of a button.
According to Google, two out of three customers are interested in using AR when they shop online.
Headless Adobe Commerce makes it easier for your website to handle new technologies like AR, artificial intelligence (AI) and voice technology. This means you can offer customers new and unique ways to discover the products you sell.
Is headless Adobe Commerce right for me?
It's ultimately your decision whether to adopt headless architecture for your Adobe Commerce site.
If you have a small eCommerce site and have not identified any issues with speed and performance, it may be worth sticking with unified architecture for the time being.
However, headless Adobe Commerce could be a good option if you are planning to expand your store or want to improve the user experience.
Headless Adobe Commerce does take time and resources to implement. However, if you are looking to scale, the initial outlay could lead to a solid return on investment for your business.
Xigen: building and hosting Adobe Commerce eCommerce solutions
We've been creating Adobe Commerce eCommerce sites for over ten years. Whether you want to build a brand new Adobe Commerce website for your business or redevelop your existing Adobe Commerce online store to become headless, our specialists are here to help.
Our in-house development team is Adobe Commerce and Adobe Commerce 2 Certified. This means you get specialist support and a site that not only looks great, but is fast, secure, and user-friendly.
Contact us today to see how we can implement Adobe Commerce headless architecture into your eCommerce site.