insights | 17.12.2020
Shopify vs Etsy: Which is Best for Your Business?
Article topics
Shopify vs Etsy
Why Shopify?
Why Etsy?
Can Shopify and Etsy work together?
Online store or marketplace?
Conclusion
Are you looking to take your business forward to the next level and sell your products online? It's an exciting move for your business and one that could help you reach new customers and increase your revenue – provided you have the correct platform and implement it effectively.
There are a range of marketplace options available to your business, and none are more popular than Shopify and Etsy. In fact, Shopify has an 8% share of the eCommerce market globally, with more than a million businesses trusting its services. Meanwhile, according to Statista, Etsy's annual merchandise sales totalled $4.97 billion in 2018.
While these are two extremely popular options, they're also very different – so it's worth understanding the strengths of each platform.
In this article, we'll aim to give you an overview of what both Shopify and Etsy can offer your business to help you gain a better perspective on what's best to move your venture forward.
Shopify vs Etsy
In a nutshell, one is an online store and the other is an online marketplace – so the first question you might want to ask yourself is which format better suits your business, your products, your customers and potential customers.
The way in which you sell your products will be how you settle a 'Shopify vs Etsy' debate. Shopify is an online store dedicated to your products and you can set it up as you wish, with your vision in mind. Alternatively, shoppers looking for products on Etsy will head to the website and see your products listed alongside those of other sellers. It's the digital equivalent of having your own bricks and mortar shop vs having a stall in a busy market.
Before we dig a little deeper into the specific pros and cons of each option, what might you need to consider for your business? Some of the most important factors are:
Pricing – how much will each option cost your business?
Customer payment – which offers the best option to the people paying for your products?
Usability – which will be easier for you to work with?
Features and tools – what options will you have?
Support – will you be able to receive technical help?
Flexibility – do you have the freedom to make changes?
Marketing – will you be able to easily attract customers?
Keep these points in mind – and consider them all carefully – as we walk you through what both Shopify and Etsy offer.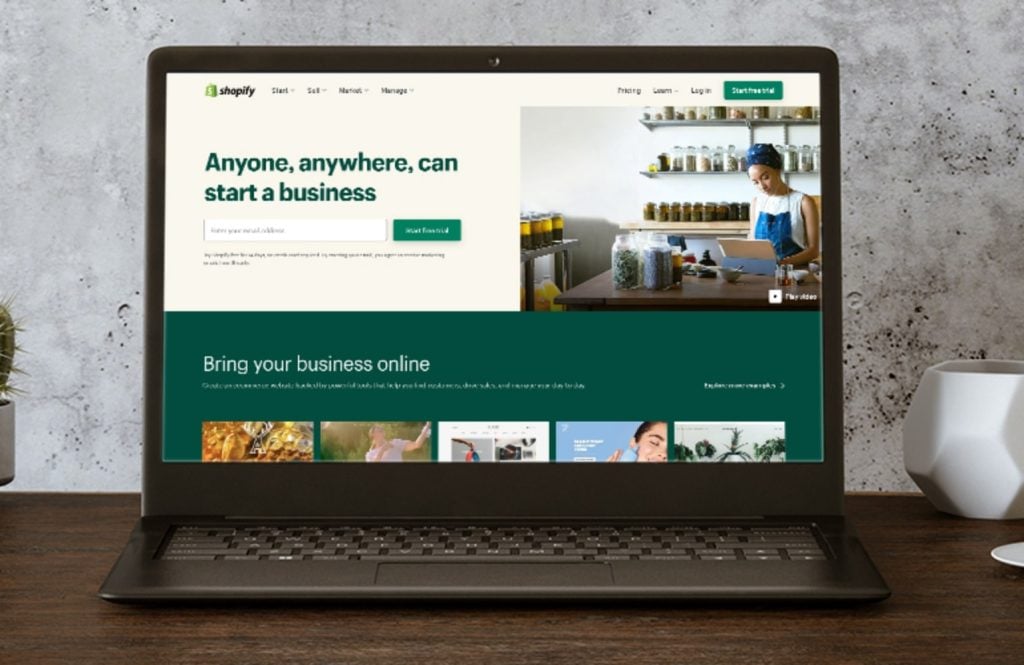 Why Shopify?
First thing's first, Shopify gives businesses of all sizes the opportunity to either integrate their platform with an existing website or create a brand new site from scratch. This means you can have creative control over the way your site looks and feels and the ways in which you can project your brand to gain users and customers.
Whether you sell products or services, there are no limitations set on what you can offer your customers. Therefore, digital products such as ebooks and downloadable guides your in-house experts create can be sold in exactly the same way as tangible products.
It's also incredibly easy to use (despite its technical capabilities), so you'll have the power at your fingertips to implement the changes you need to make with little fuss. As it's a scalable platform, businesses have the ability to grow what they offer, knowing that their Shopify website is capable of growing at the same pace. The flexibility of Shopify is one of its biggest USPs and along with that it has robust security for your peace of mind.
Take a look through Shopify's positives and negatives to get a clearer picture of what your business could achieve with this platform to elevate your success.
Shopify positives:
Complete creative control – you can design your online store to be on brand and present your products as you wish, in the format you choose.
No limitations on the amount or type of products or services you sell.
Full overview and control over your sales with a range of tools.
Inventory system for a quick and simple way to track where you are.
Shopify is built with scale and flexibility in mind, so a start-up could build their online store with this platform and the site will grow alongside the business.
A robust base for your business to provide an omnichannel experience for your users – meaning you're being flexible to the ways in which your customers prefer to shop.
Allows you to accept a number of payment methods simply with Shopify's multiple payment gateways.
Shopify negatives:
There are a number of add ons available for a Shopify site, which is clearly a positive, but the additional cost of these might prove problematic for many businesses.
With a Shopify site, you'll have to put in all the marketing efforts yourself to project your brand and attract users – you can't rely on the traffic of a popular marketplace.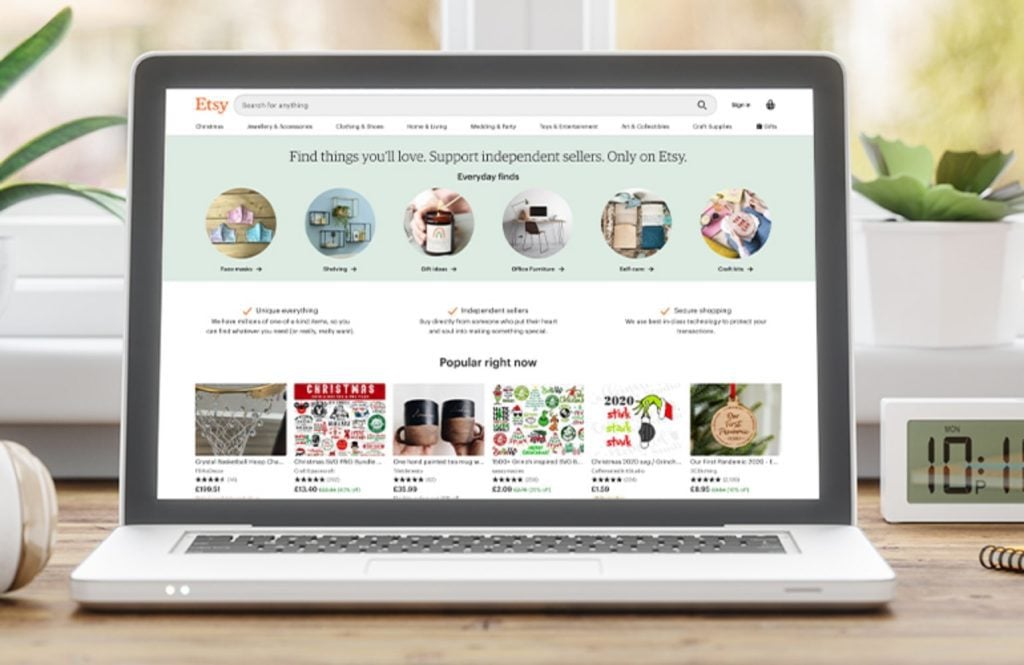 Why Etsy?
If you think what you offer your customers is best suited to a marketplace environment alongside other sellers, then Etsy might be the website for you to use. This eCommerce site focuses primarily on unique vintage items, products that have been handmade and craft tools and supplies. You'll find everything from jewellery and clothing to quirky handmade prints on Etsy.
If your products fit in these categories then you might be quids in, with more than 46 million active users on Etsy as of 2019. This means you'll receive all the traffic you need to attract customers and sell your products without having to use a chunk of your budget on marketing. It really is as simple as setting up your page, uploading your product information and starting to sell.
There are positives and negatives for every eCommerce website that are specific to your business and your brand, so these decisions always need to be made on an individual basis. Take a look through these positives and negatives for Etsy with your business in mind to get a clearer picture.
Etsy positives:
It's a popular site, so traffic isn't a problem – users often search for a product, then 'Etsy'. This gives you a chance to feature in the results for this.
You'll find it's very easy to set up an Etsy account – you just need to enter your details and upload all your product information and you can start making sales.
There are few technical requirements to setting up your Etsy account – you need to have very little experience with technical tasks or design.
Unless you opt to upgrade, the only fees you'll need to pay are transaction and listing fees.
Etsy negatives:
You'll have limited creative control over the look and feel of your page – you'll be able to add a flavour of your brand with your product imagery and logo but that's about as far as you can go.
Etsy is very restrictive when it comes to the products you are able to sell via its marketplace – handmade products, vintage items over 20 years old and craft items are within its remit.
Even though there are only transaction and listing fees, if your products become popular and you start to sell in large quantities, this cost can begin to mount
You have to keep track of your inventory yourself as this isn't accounted for via Etsy.
It's worth noting that Etsy has created its own eCommerce platform called Etsy Pattern and it has fewer limitations than the marketplace. However, you do already have to be a seller with Etsy to be able to use Pattern. It's a simple platform without the power and possibilities that Shopify can bring a business, but it might work for your business as an add on to the marketplace.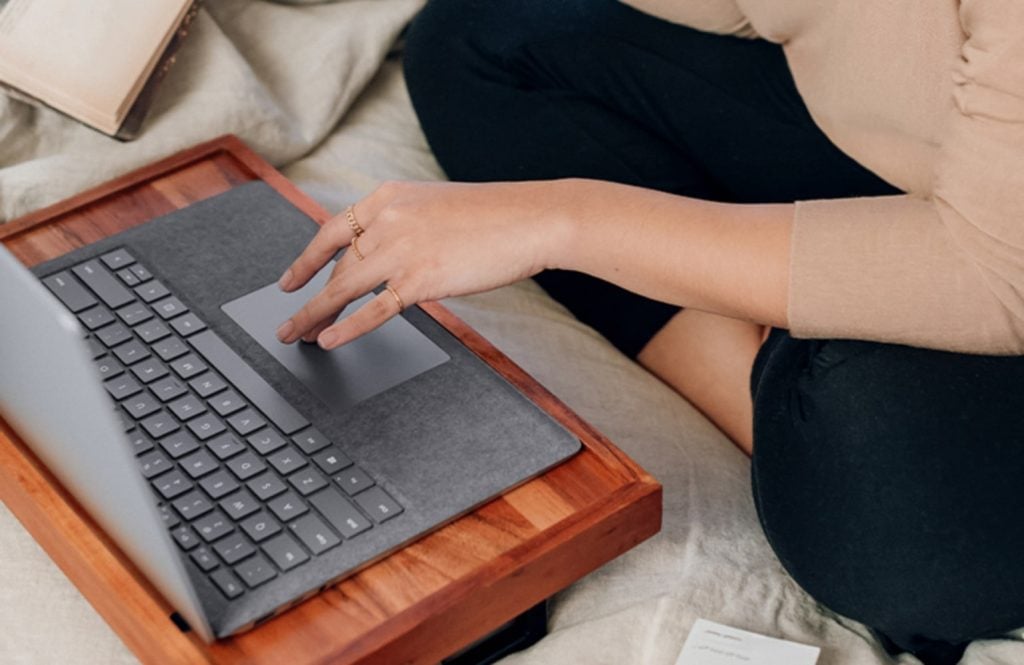 Can Shopify and Etsy work together?
The simple answer to this question is yes, they absolutely can work in partnership. This means that you might not even need to make an either/or decision. Shopify is a SaaS or cloud platform, which means it can be managed from any connected location and it also has powerful omnichannel options.
This ensures that customers can purchase your products or services seamlessly, in a variety of ways and can integrate with sites such as Etsy, Amazon and eBay.
Therefore, having both a Shopify site and integrating it with an Etsy product page could open your venture up to multiple routes to market and the possibility to scale.
Online store or marketplace?
Now you've seen the main positives and negatives of Shopify and Etsy side by side, you'll hopefully be closer to knowing whether you want to sell via your own online store or via a marketplace. They're both channels for selling products, but they adopt two very different approaches, so it really depends where you see your business fitting and flourishing.
There are pros and cons of both methods – for instance, if you simply don't have the resources for marketing and ongoing SEO efforts then your own website might struggle to attract traffic and get lost in a saturated market. Therefore a marketplace such as Etsy that has more than 46 million active users a year could be perfect for you. But if your strength is your brand and you have marketing covered, you'll likely want your own space where you can showcase what you have to offer with a platform such as Shopify.
Conclusion
There's little question that Shopify is the best option for forward-thinking small to medium businesses and beyond with ambition to scale. However, the choice for whether you use an eCommerce platform or an online marketplace – or both – rests on your business model and the products you sell.
If you're hoping to evolve what you offer and grow into fresh markets across the globe, then Shopify is probably the option for you as you'll have a powerful, scalable platform and the creative control of your marketing efforts. Of course, having your own Shopify eCommerce platform means you can integrate with a range of APIs, including Etsy if appropriate – and this way you can experience the best of both worlds.
If you're still feeling a little confused and in search of assistance, then get in touch with our platform agnostic experts to chat through your requirements. We can work together to offer recommendations and create something perfectly suited to both you and your customers.