insights | 27.03.2020
Beautiful fashion sites on Shopify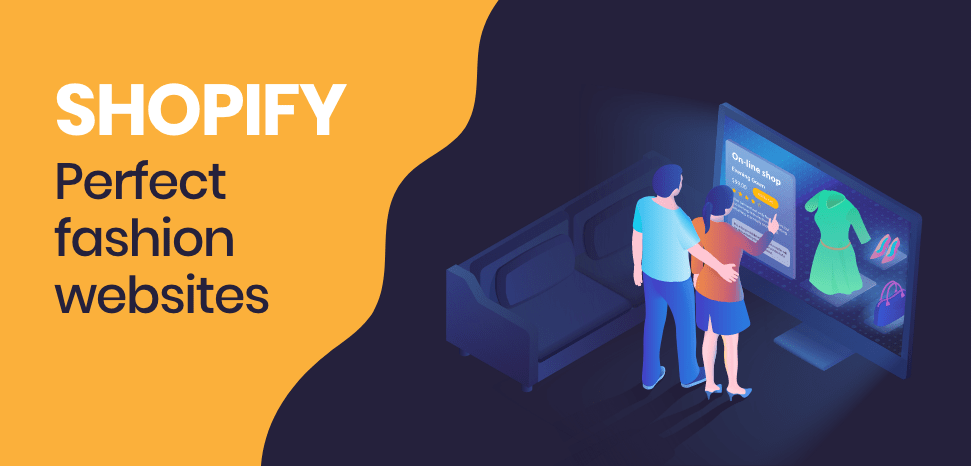 Picking the perfect website platform for SMB eCommerce is important if you want to maximise the potential of your business.
There are many things you will need to take into consideration when selecting your platform – and Shopify has emerged as one of the most exciting, flexible and also reliable eCommerce platforms on offer to meet those needs.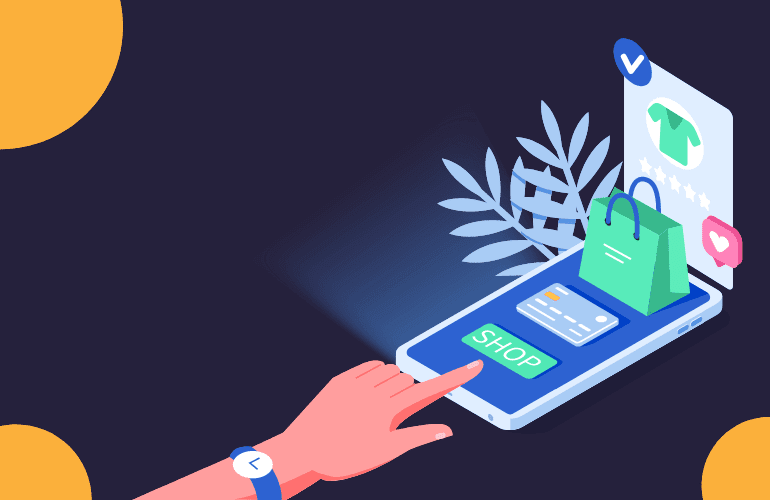 Why Shopify?
Shopify has quickly become one of the most attractive options for businesses looking for a versatile eCommerce website. It's a cloud based platform, meaning it's ideal for companies that may need to quickly respond to a situation and manage their site from any connected location.
Shopify also has a really strong reputation for being secure – this ensures that customers feel comfortable and are able to trust your site to make transactions. This is something that's vital, and that's why Shopify is PCI DSS compliant – because if customers don't trust your site, they quite simply won't spend money with you.
eCommerce sales are growing all the time, meaning it's vital to your business to use an intelligent website platform you feel comfortable with to drive sales and growth. Online shops never close – and that means you need yours to be reliable enough to cater with round-the-clock demand. It's great to know, therefore, that Shopify caters for companies of varying sizes – it's a flexible option for all sorts of businesses, but especially fashion brands.
10 beautiful fashion websites built using Shopify
Lavish Alice
William Abraham
Beyond Retro
Steven Alan
Norwegian Rain
House of Harlow
Phix Clothing
Allbirds
ToyShades
Wanderlust + Co
To get you inspired for the creation of your new eCommerce website, we've collated some of the most beautiful fashion sites on Shopify. Many of these visually slick sites also adhere to a collection of web design trends for 2020, combining cutting edge design with maximum user-friendliness. From House of Harlow and Beyond Retro's clever use of white space to Phix Clothing's black and white colour scheme, these sites are championing fresh trends with the help of Shopify.
1. Lavish Alice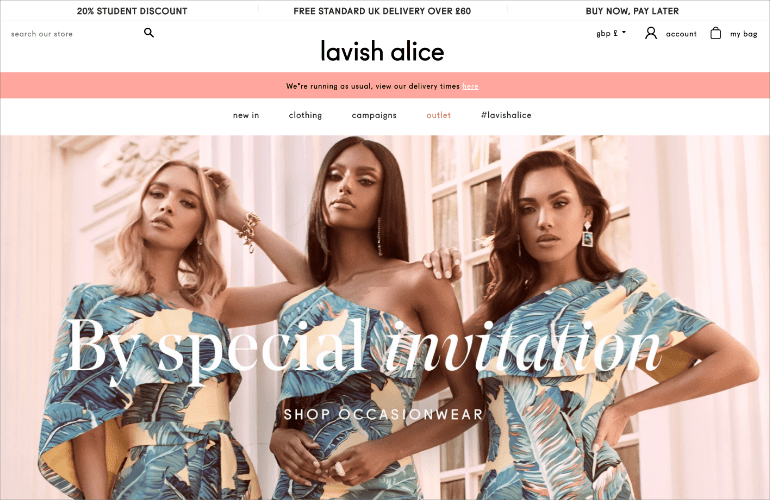 Co-founded by Lee Bloor and Matthew Newton in Manchester in 2010, Lavish Alice is now a global contemporary, premium womenswear brand. The website invites you in with large, punchy images of models wearing the products and is laid out with an easy-to-navigate menu. Scroll down and the product visuals include videos of models in the clothing – this is a great feature for a fashion website as customers get a better idea of how the product will fit. This is all supported by a clean, white background, ultimately making the product imagery the star of the show.
2. William Abraham
This luxury sock retailer's website uses a really clever mix of a dark colour theme with boxes of white to ensure certain products pop and stand out. Taking inspiration from a 2020 trend, William Abraham's site is really playing with colours – the vibrancy of the socks is eye-catching in contrast to the dark theme on the homepage and product pages.
3. Beyond Retro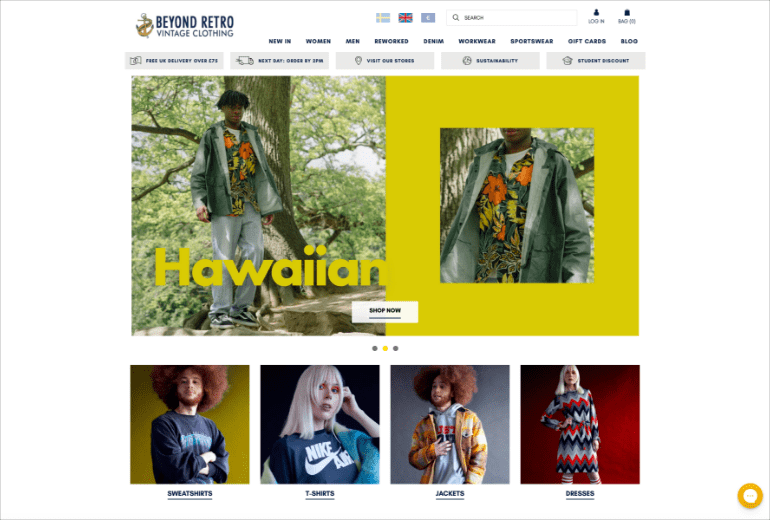 What's always really important when it comes to a website's design is that it stays true to the brand it's representing – and this is something the Beyond Retro site does beautifully. The website of the popular vintage clothing retailer uses a clean background and lots of white space to allow the pops of colour from the clothing and accompanying boxed out elements to shine. It's easy to scroll, with clearly labelled sections that are perfect for customers looking for specific items – for example 'Popular Brands' and 'Shop by Era'. This is a beautiful and functional website that stays true to the brand.
4. Steven Alan
This clothing website specialises in essentials for both women and men and is a simple, clean site that boasts a mixture of elements. These elements include character-adding animated illustrations of beanie hats, which add to – and enhance – the relaxed fun of the Steven Alan brand.
5. Norwegian Rain
If you're looking for an example of an appealing eCommerce fashion site, strongly representing its brand while looking effortlessly cool, look no further than Norwegian Rain. The outerwear retailer has a simple philosophy: "Hard core functional and waterproof outerwear that does not compromise on stylistic preferences. The hi-tech is hidden." The site exudes high-end fashion while weaving in messaging about the functionality of its products. The Norwegian Rain website is amazing visually thanks to the quality of the imagery and a mixture of typography and text size – plus the products themselves look incredible. The product pages are simple, with imagery in a grid style set on a white background making it functional and easy for the customer to navigate.
6. House of Harlow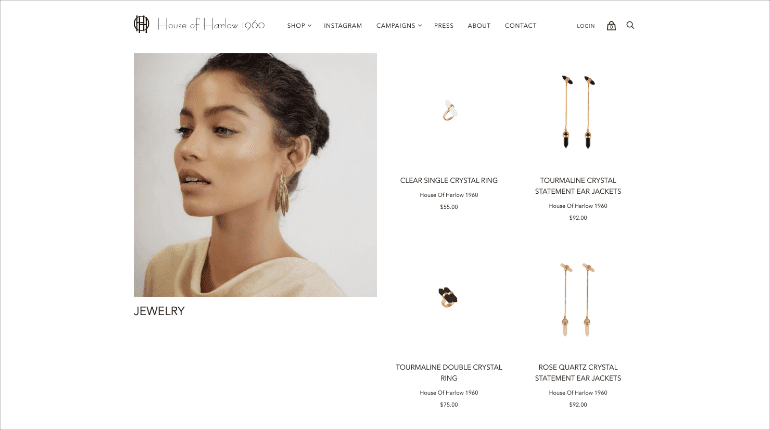 As with Beyond Retro, this Shopify site also uses white space effectively – it's an extremely simple layout but ensures the House of Harlow products take centre stage. Stripping away clutter in this way also makes it very user-friendly as the menu is crystal clear, and the whole site is also easy to use for customers on mobile devices. The beauty of this site is in its simplicity.
7. Phix Clothing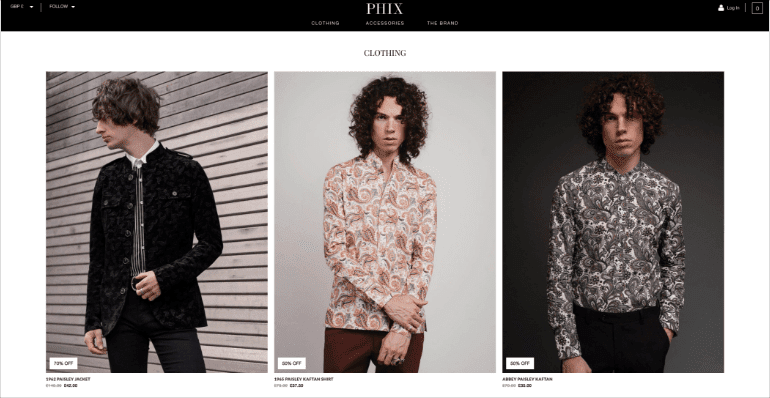 This independent British menswear brand is inspired by the style of the 1960s and 1970s, embodying rock and roll and classic British tailoring – something that's represented in the design of the site. Phix has an amazing aesthetic featuring a black and white theme with large bold imagery showcasing the brand's products. The homepage menu has three simple options – 'Clothing', 'Accessories' and 'The Brand' – making this design uncomplicated, ultimately promoting sales on the website.
8. Allbirds
A bold, quirky brand, Allbirds creates eco-friendly, comfortable footwear made from wool, tree bark and sugar cane. The Allbirds website perfectly represents the brand with fun character-adding elements used on the homepage representing what the shoes are made of. Pictures of bark, wool and sugar cane have been illustrated with arms and legs to create characters – adding the perfect amount of personality. This Shopify site also uses interactive and advanced product visuals on the homepage to represent the comfort of the shoe. These are all elements which are perfectly deployed to appeal to the Allbirds audience and drive sales.
9. ToyShades
An eye-catching rolling header banner ensures the attention of ToyShades customers is captured immediately. Sharp, sunkissed, aspirational and colourful photography dominates the homepage showcasing the sunglasses. Once again, the navigation of this site is extremely simple, making this another user-friendly Shopify-powered website.
10. Wanderlust + Co
The homepage of Wanderlust + Co is dominated by products, plus videos of products being designed and made. Advanced product visuals and interactive elements add to the mix too. As with many of these stunning and successful Shopify sites, Wanderlust utilises white space to really good effect. Again, with some of these sites, customers can shop for the brand's gorgeous jewellery straight from the homepage, enhancing the user experience.
Conclusion
Shopify is a trustworthy and appealing platform for eCommerce sites seeking flexibility when it comes to growing what they offer. It's easy to see, therefore, why it is proving popular. These examples are all visually appealing websites for commercially successful businesses and have hopefully given you some inspiration for the design of your eCommerce site. Are you thinking of using Shopify for your eCommerce website? If you are, and you're also looking for an innovative approach to designing something totally new – or even a refresh of your existing site – learn more about what is possible by getting in touch.