insights | 11.03.2021
Magento vs. Shopify – the ultimate guide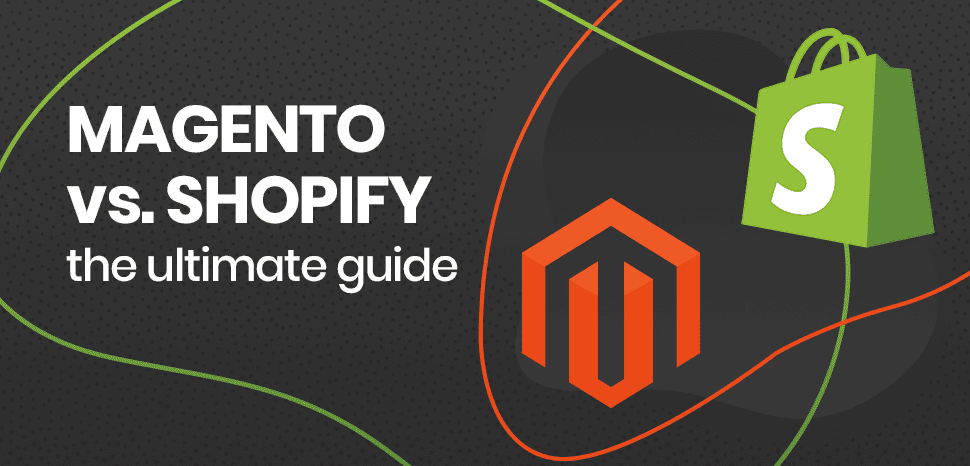 Article topics
Making the right eCommerce choice for your business is crucial for long term success.
The right eCommerce platform will enable you to offer consumers consistently outstanding shopping experiences and will ensure that your webstore is able to grow and evolve with your business.
There is a lot to consider when choosing an eCommerce platform, such as platform type, pricing, design, features, scalability, the list goes on. Each of these factors will mean something different for every eCommerce business, depending on sector, type of business (B2C/B2B) and individual business needs and goals.
There are many eCommerce platforms available. Among the most popular are Magento and Shopify. In this article we aim to offer answers to the Magento vs. Shopify question for businesses that want to switch platforms or create a new webstore from scratch.
We'll explore Magento and Shopify, discovering some of their differences and their strengths, enabling you to make more informed decisions during the consideration and comparison stage on your journey towards your new eCommerce solution.
Magento-Shopify – pros and cons at a glance
Shopify pros
Suited to SMBs with no programming or development expertise
Offers a wide range of responsive webstore themes
Straightforward to use
Lower initial cost
Faster time to market
Hosted, managed and supported by Shopify for a monthly subscription
Additional Shopify Plus pros
Unlimited staff accounts
Over 10,000 transactions per minute scaling
Shopify cons
Less customisable
Less scalable (unless using Shopify Plus)
Ongoing costs can mount up with additional features
Additional card payment processing fees when using Shopify Payments
Magento pros
Highly customisable (OS)
Feature rich (Commerce)
SEO
Both OS and Commerce versions available
Highly scalable
Magento cons
Requires experienced Magento developers
Total cost of ownership is higher than Shopify
Requires hosting
Longer development times
What exactly are Magento and Shopify?
Magento 2
Magento 2 (Magento) is one of the most popular enterprise level eCommerce platforms available today, with over 250,000 Magento businesses worldwide, representing 10% market share of the top one million eCommerce websites. Magento is available in two different types: Magento Open Source and Magento Commerce.
Magento Open Source
Previously known as Magento Community, Magento Open Source (OS) is an open source architecture platform, meaning that developers are able to use its source code to create bespoke webstores. This can be an attractive proposition for businesses that want to offer consumers a unique shopping experience. But this level of customisation is more costly with hosting, ongoing development and support and maintenance.
Magento Commerce
Magento Commerce an enterprise level eCommerce solution with powerful native capabilities that are not included with the Open Source version, such as content staging and preview, integrated B2B, automated cross-sell/upsell and much more. This means shorter development time and lower initial development cost compared with Magento OS, although with the Commerce edition, extensions and ongoing development make longer term cost comparable. If you are looking for 'out of the box' features and functionality, Magento Commerce or Shopify Plus would be more suitable.
Shopify & Shopify Plus
Shopify is a very popular software-as-a-service (SaaS) eCommerce solution, with 20% of the top 1 million webstores. Shopify is hosted on Shopify's cloud servers, with them providing development and support. SaaS eCommerce platforms enable you to access and manage your webstore online from anywhere with connectivity, making it flexible to manage. Shopify requires a set monthly subscription rather than hosting fees, although ongoing development costs still apply for new features and functionality. Shopify supports popular third-party integrations and offers upselling tools, drop ship plugins, order tracking, returns management and CRM integrations. With Shopify the initial development costs are lower, although there are transaction fees and additional costs for plugins and extensions, which can mount up. Because Shopify Plus is an SaaS cloud hosted solution, ongoing maintenance costs are lower compared with Magento OS and Magento Commerce. Not paying for a data centre or development agency to host your webstore will also help keep costs down.
Shopify Plus
Shopify Plus is aimed at enterprise level businesses. It's very similar to Shopify, but with capacity and scalability for much higher traffic volumes—more than 10,000 transactions per minute.
Features comparison
Essential functionality
Both Magento and Shopify offer similar essential functionality. As you would expect, the main webstore elements are covered, such as inventory management, product pages, shopping cart, checkout and so on. When it comes to setting up basic webstore operations, Shopify is more straightforward and can be up and running faster than a Magento webstore, which means initial costs are lower, although costs can increase as your business grows and your webstore requires additional features, functionality and capacity.
Multiple store fronts
This is a really useful feature that enables the creation of different store fronts that operate from a single source of truth. That means you can create a number of product specialised store fronts to better target consumers, all using the same admin, so that stock management and order fulfilment remain as one. For example, your business might be general musical instrument sales. You sell guitars, drums and keyboards. A brick-and-mortar store would have separate departments for each instrument type. It's the same idea for different store fronts, focusing consumer interests. Your main webstore might be 'themusicestore.com', with different store fronts for 'theguitarstore.com', 'thedrumsstore.com' and 'thekeyboardstore.com', each with its own distinct identity, better fitting with particular types product and consumer. This is especially useful if your business has wide product and category ranges. Having dedicated storefronts makes products easier to find, reducing friction in shopping journeys. Both Magento and Shopify offer multiple storefront capability.
Inventory management
Magento and Shopify enable you to have unlimited products in your webstore. If your business has a lot of products and SKUs then this should be taken into consideration, as a massive inventory could impact webstore performance and UX. The way in which Magento and Shopify manage inventory is similar. Items can be added manually or as bulk uploads, with all of the criteria for product management that you would expect: categories, tax class, stock status, images, enable/disable etc.
Shipping
Shipping charges are managed by both platforms, offering flexibility for calculating charges based on customer location. Magento and Shopify can integrate shipping tools for dropshipping, enabling faster and easier order fulfilment from warehouses in different territories.
Customer payments
With Magento, customisation possibilities are wider than Shopify. As a result, Magento has more scope when it comes to payment processing and gateways, giving you more choice and flexibility with the payment methods that you offer. Shopify Payments is an app for Shopify that enables payments to be taken without the need for third parties, so it's easier to manage payments. But Shopify Payments imposes fees on top of the fees charged by third-party providers, so it costs a little more per transaction. The fee depends on the level of Shopify subscription—around 2.9% + 30p per transaction.
Multi-language and currencies
Localising your webstore for international marketplaces is crucial for local consumer engagement. That means deploying your webstore with different language store views and with local currencies. Localising your webstore in this way will help improve conversion rates and customer retention.
Magento vs. Shopify: out-of-the-box features at a glance
Design
How your webstore looks and the user experience that it offers are vital for eCommerce business success. Webstores designed to engage consumers from the moment that they land on a page, and throughout their shopping journey, will have higher conversion rates and generate more revenue than less well-designed webstores.
Webstore design should fit with a business's brand, sector and products, as well as being tailored to engage the target audience. For shopping journeys to be super-low friction they must be well signposted and feature clear and intuitive UI elements.
Magento OS offers more design possibilities than Shopify, but for some businesses the priority may be faster time to market or be constrained by budget. This is where Shopify and Magento Commerce would be a better fit.
Themes or a bespoke solution?
Shopify offers many design customisation options using themes that will suit any type of business and products. Magento Commerce also offers themes, although Shopify has a broader range. Using ready-made themes and templates reduces the possibilities when it comes to custom design, but it does enable businesses to create outstanding webstores, with reduced initial cost while keeping development time down. Alternatively, if your business requires a bespoke eCommerce solution then consider Magento OS, but development costs will inevitably be higher and time to market will be longer, with ongoing hosting, maintenance and support costs.
Mobile first
Both Shopify and Magento are mobile-friendly, for eCommerce stores that offer consumers outstanding and consistent shopping experiences across devices. This is important as consumers shop more using their phones than their desktop or laptops, not just making purchases, but switching between devices many times while deciding what to buy and where to by it. Because of this, designing for mobile first and then adapting for desktop has become standard eCommerce design practice, whereas in the past it was the other way around. An outstanding mobile webstore is important for consistent shopping experiences and successful SEO.
Final thought
When it comes to Magento vs. Shopify there's much to consider. Both are popular eCommerce platforms, offering a variety of solutions to fit every type and size of eCommerce business.
For start-ups and SMBs the Shopify platform provides an eCommerce solution that can be developed and deployed relatively quickly with lower initial cost, but costs can rise down the line as your business grows and more features and functionality are needed.
Medium and enterprise level businesses should consider Magento Commerce for its powerful features, Shopify Plus, or Magento OS for its high customisation capability. But which platform will be best for your business ultimately depends on your business specific needs, goals and budget.
Is your business looking for an eCommerce solution? If you would like to know more about what Magento or Shopify have to offer, then get in touch today for a chat with one of our platform agnostic, certified Magento and Shopify experts who will guide you towards the right eCommerce solution for your business.