news | 20.03.2020
New charity initiative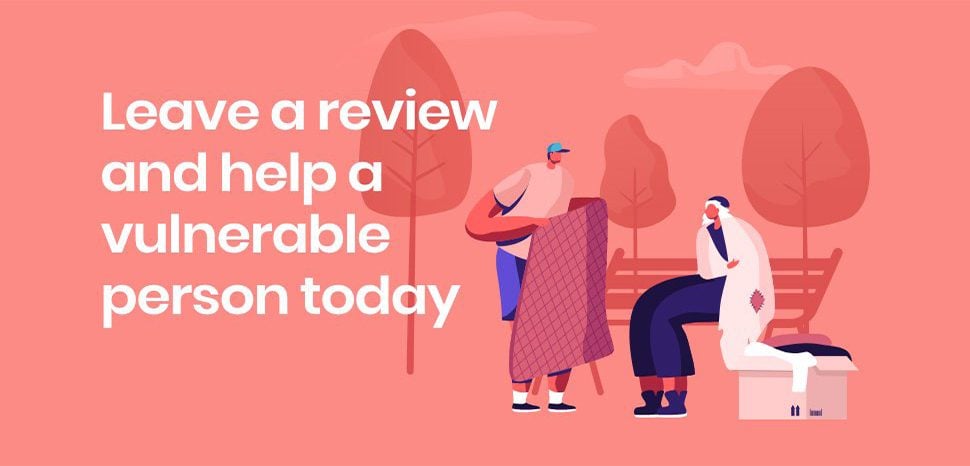 We have partnered with SMART CJS to help support rough sleepers and homeless people in Bedford.
SMART is a charity that helps people help themselves. It's a charity that provides safe spaces to work with vulnerable people, empowering them to make positive changes and take control of their lives. It helps adults with complex needs, so that every person has the opportunity to achieve their fullest potential, participate in and contribute to all aspects of life.
As well as working with rough sleepers and homeless people, SMART offers support and advice to vulnerably housed people who might be in danger of becoming homeless. Trying to reach people in difficulty before they fall through the cracks helps ease the strain on much of SMART unfunded work.
Creating an initiative with SMART CJS that will fund additional help and support for rough sleepers, offering them a shower, hot meal, laundry and bed for one night
LEAVE A REVIEW
The initiative works by our business clients and associates reviewing us on Google. For every review left, we will donate the cost of a shower, hot meal, laundry and bed for the night for a vulnerable person. This simple incentive could see SMART able to offer many vulnerable people practical support that they would have otherwise not been able to.
Businesses are finding new ways to engage with their customers. The rise of platforms such as TripAdvisor, Trustpilot and Google Reviews have given customers the power to make more informed choices about which companies they choose to interact with. This kind of social proof can't be bought. It must be earned. Aligning with important social issues and offering positive and tangible support to vulnerable people resonates with us and will hopefully resonate with our clients and associates too.
It's easy to participate in the initiative. All you have to do is leave a Google review about Xigen. By doing this you will be directly helping a vulnerable rough sleeper with practical, tangible support: shower, hot meal, laundry and bed for the night.
"A good way to move people to action in any context is to incentivise them. This initiative will enable our many clients to give practical help to vulnerable people, rather than being asked to donate money to a charity with, let's face it, nebulous outcomes—'what exactly has my donation paid for?'. We want to be really transparent about what we're offering: You leave a Google review about us and we will donate the cost of a shower, hot meal, laundry and bed for the night to SMART. It's that simple."
James Pruden, Managing Director – Xigen
"We are really excited about partnering with Xigen. It's great to work with them, a local business, on this brilliant fund-raising initiative. We hope to support many people with the money raised and make a real difference to vulnerable people sleeping rough."
Lisa Harrison, Area Manager Homelessness and Fundraising – SMART