insights | 27.03.2018
How Digital Design is Evolving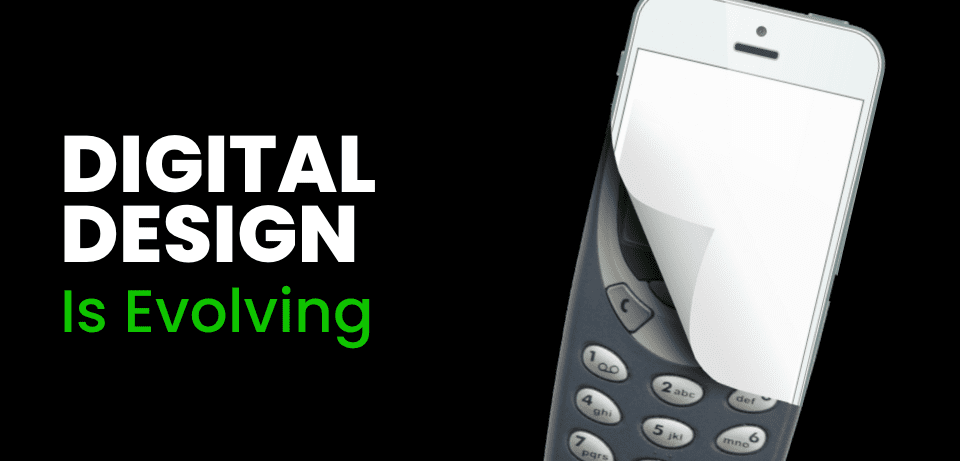 "It is not the strongest of the species that survives, not the most intelligent that survives. It is the one that is the most adaptable to change". Charles Darwin
Digital design, creativity and a way to communicate brand messaging has never stood still.
If you look back on the history of graphic design and advertising, you'll notice that design reflects what's going on in the world at the time.
Today, we tend to associate design with activities like graphic and web design; product design; apps or fashion and the ubiquitous user-experience: and we've all become more immersed in 'the experience'.
Seeing is (eventually) believing
Of the five senses of the human physiology, vision is the most relied upon sense. It's through this that we work our way through our natural environments – recognising subtle visual cues and messaging; understanding why something may look appealing. Vision and the experience tied to that vision may persuade our conscience and decide why we prefer a certain brand over another.
And it is the visionaries who repurpose this world we live and work in, heightening our senses, piquing our interest again and again.
Time does not stand still for anyone or any platform
The last few decades we have seen historical changes that have altered our perception of advertising, marketing, consumerism and the role of digital design. And it won't stop there.
In 1981 IBM launched the first personal computer – a revolution in digital technology. The world's first PC allowed its owners to perform basic data entry tasks.
1983, Apple's 'Lisa' is released; the first personal computer to have a Graphic User Interface.
In 1990, HTML was first developed.
Google is developed at Stanford in 1996; the domain Google.com is registered the following year.
LinkedIn founded in 2002…
…in 2004, Facebook appears…
…YouTube follows in 2005.
Over 10 years ago, the first ever iPhone was launched and regarded as a revolution in smartphone technology.
Touch-screen and mobile technology paved the way for user-led experiences and the birth of the app; which in turn unleashed new concepts in design, data capture, and targeted marketing to captive audiences, and, of course, newer experiences.
Experiences matter – it's a data-driven fact
Most of us couldn't be without our mobile phones, they allow us access to pretty much everything we need for our daily lives – from email accounts and bank accounts to keeping in touch with friends and family across the globe.
Advancements in mobile technologies over the last twenty years have forever changed the way we communicate with the outside world on this individual basis. It has provided us with the ability to access information we need, at any time, instantly. And as technology changes the way information is consumed, it, in turn, changes the way businesses relay information.
As the power of digital design, with support from digital marketing, increases its influence, businesses will lean towards the data-driven, versatile and traceable nature of digital data design. This enriches both customer and business, creating opportunities of even more in-depth user-experiences.
As an innovative Digital Design Agency and leading Digital Design in Bedford, we help small and big businesses evolve through digital design to become more part of 'The Experience'.
After all, we're only human.