insights | 12.08.2021
Benefits of Amazon Web Services for WordPress eCommerce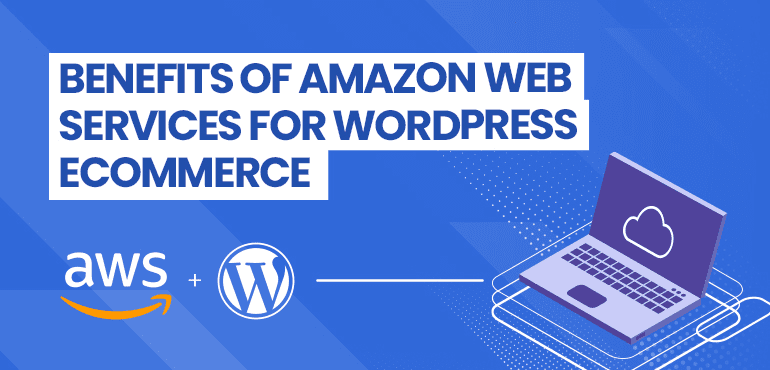 Article topics
You want high performance WordPress (WP) eCommerce. You want your WP store to be fast, flexible and resilient, to offer consumers consistently outstanding shopping experiences, from landing pages to checkout. There are many things to consider in achieving that goal, but perhaps the most important consideration is how you choose to host your WP store.
This article will explore hosting provided by Amazon Web Services (AWS). We will look at what AWS can offer WP stores and how small and medium sized businesses (SMB) can benefit from choosing an AWS approach to hosting, whether migrating from an existing hosting provider or building a new WP store from scratch.
Benefits of AWS for WordPress eCommerce at a Glance
Performance – higher performance means more satisfying shopping experiences.
Reliability – server downtime costs, not only financially, but also reputationally. Hot disaster recovery gets you up and running again quickly.
Scalability – be able to cope with spikes in demand and be able to modify you're WP store as your business evolves.
Security – keep data and information safe and secure for your piece of mind and to help instil consumer trust.
Easy migration – AWS hosting enables seamless migration without interrupting business.
Pay for consumption costs – save money by only paying for services and service levels that you use.
Types of Hosting
There are, broadly speaking, two hosting options. Firstly, there's the physical, hardware server approach, with your server either located onsite at your place of business or offsite with a third-party hosting services provider.
Physical Server
Creating, running and maintaining your own onsite server will give you total control of your WP store's performance, scalability, security and support. This might sound great, but in reality it will require large investment in hardware, software and the specialist staff to manage and maintain your server—constant monitoring, optimising and upgrading.
With an offsite server the cost and headache of an onsite server are managed by a specialist hosting provider—your WP store residing on a physical server at their data centre. Your hosting partner will take care of monitoring and upgrading etc.
But your store will still be on a physical server, with relatively low resilience, being more vulnerable to security threats and being more susceptible to down time and local traffic and IPS issues.
Cloud Hosting
The second and more common hosting solution is cloud based. A cloud-based approach removes reliance on physical servers altogether. The cloud enables you to access software whenever you like from wherever you are, as long as you have a Wi-Fi connection.
The cloud offers on-demand availability not just for servers, but also for digital resources such as storage, databases and networking. It makes a network of data centres available globally to many users via the internet. 
AWS is a cloud service that provides digital architecture located in data centres for virtual servers and databases. And it's on these virtual servers and databases that your WordPress store will exist and be managed.
Managed WordPress AWS Hosting
Using an experienced WordPress development and AWS hosting partner to manage your online store's backend frees you to focus on running your business, saving cost and resources on providing and managing hosting yourself. All your teams need to do is log on via the internet to manage your WP store's content, order fulfilment and customer experience.
Because WP is the world's most popular CMS there are digital agencies that specialise in WP eCommerce development, so it makes sense to use a WP specialist for your migration to a new hosting solution or to create a new WP store.
What Does Amazon Web Services Offer WordPress SMBs?
Using a managed, virtual server hosting service such as AWS has many benefits for small and medium sized WordPress businesses, helping to improve user experience (UX) and increase business agility.
Faster Page Load Speed
One of the main causes of poor UX is slow page load speed—the longer it takes for a page to load, the more likely consumers will be to click away from the page and your store.
Slow page load speed will also impact SEO ranking in Google searches, meaning that your store and product landing pages could be less findable than your competitors'.
The metric used for page speed is bounce rate. Studies have shown that as page load speeds increase, so does bounce rate, with around 7% bounce rate up to 1 second load time, and up to a staggering 65% for a 10 second load time, rising significantly if load time slower than that.
Using AWS hosting helps to improve page load speed in a number of ways. Perhaps the most important of these is how it caches your WordPress store's data.
On physical servers, data is generally cached in fast access hardware RAM. The main purpose of a cache is to increase performance by faster data retrieval. A cache stores data transiently, trading off capacity for speed. AWS high performance ElastiCache works as an in-memory data store to support applications that require super-fast response times.
In comparison to physical databases, where most operations need to write to disk, AWS stores data in-memory, which is significantly faster than hard disks. The result is ultra-fast performance, supporting millions of operations per second for faster page load times, reduced bounce rate and more satisfying shopping experiences.
Highly Scalable
Another important factor in your WordPress store's performance is availability. AWS hosting architecture is highly scalable, meaning that in times of higher traffic volumes, such as Black Friday, Christmas or if you have a new high demand product, your store's performance won't be significantly slowed down (or crash), ensuring consistently high availability for consumers.
A specialist AWS hosting partner will have at their disposal a variety of tools and methods to help ensure that your WP store has higher performance, such as using multiple data centres. In a scenario where a data centre fails, your virtual server and databases. will quickly be up and running again from a new data centre.
Deployment across multiple data centres means that failure can be anticipated and tolerated while service levels are maintained. In case of failure, traffic is directed away from the degraded data centre (or server).
Managed scalability across AWS servers and databases not only helps your WP store perform faster, but also provides greater resilience to fluctuating demand, combining speed with reliability.
Maximum Security
The high level of data and information security with AWS offers piece of mind not only for you and your business, but also, and importantly, for consumers. As we live more digital lives, including shopping, we trust more of our personal information to online businesses and organisations.
With some high-profile data breaches in the past, consumers are more than ever conscious of how their personal data is handled and how secure it is. AWS is the only commercial cloud that has had its service offerings and associated supply chain vetted and accepted as secure enough for top-secret workloads.
AWS data centres and network architecture protect data and information. And AWS improves your ability to meet security and compliance requirements, such as data locality, protection and confidentiality.
Comprehensive identity and access controls, combined with continuous monitoring, for close to real-time security information, ensure that the correct resources have the right access wherever your information is stored and whenever it's needed.
Take Control
Faster Code Deployment
The ability to make fast, accurate and high quality changes and improvements to your WordPress store is vital for maintaining consistently outstanding shopping experiences and business agility.
AWS enables faster and easier code deployment, reducing the time it takes to implement new features and functionality. And because the whole process is fully automated, time is saved by your WP development partner creating and improving code quality.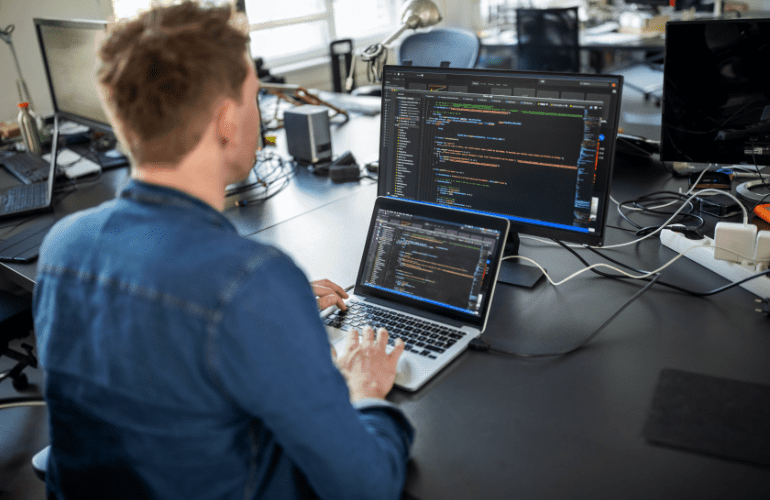 Hot Disaster Recovery
Should the worst happen, and your WP store goes down (local service failure, hardware failure, human error etc.), AWS enables a hot disaster recovery solution that can see your store back up and running in minutes, deployed from new instances of your virtual server and database served from an alternative data centre.
Smarter Pricing
AWS hosting also helps save money, with flexible pricing models where you only pay for what you use. For example, you can scale up for busy periods without the need to pay for permanent higher capacity which would not be used most of the time. And, unlike physical servers and hosting hardware, there's no end-of-life replacement costs.
Seamless Migration
If your existing WordPress store isn't performing as well as you'd like, migrating to AWS hosting could be the answer for a faster, more flexible and highly secure eCommerce solution, regardless of which WP eCommerce plugin you use (WooCommerce, BigCommerce etc.).
Migrating your existing WP store to AWS hosting—planned and seamlessly executed by a WP development expert and AWS specialist partner—can take your eCommerce performance the next level.
Many big-name brands have migrated to AWS, including Airbnb, Netflix, Vodafone and many more. Reasons for this are to stay ahead of the technological curve where interconnectivity requires technology to interact, engage and achieve sales. And for brands to opt for more secure, reliable, flexible, and globally compatible infrastructures which enable them to easily scale.
Final Thought
Using WordPress with AWS cloud hosting gives you all the benefits of the world-leading WordPress CMS coupled with the backend high performance of AWS hosting. A high performance WP store designed and built for your specific business needs and goals, hosted using AWS architecture, can help give you an eCommerce edge on your competitors, whatever your business size or sector.
Whether you are thinking of migrating WordPress to AWS, or you want a new, easy to manage high performance eCommerce store, find out more about how WordPress with AWS could help your online business thrive, get in touch today and talk with one of our eCommerce experts today.