WHY ELOQUA?
Powerful multi-channel campaign management and lead generation.
Eloqua provides the capability to plan and automate sophisticated email marketing and content marketing campaigns, attracting brand attention and generating leads. DB segmentation groups and targets customers by preferences, location, behaviour and other key criteria.
Eloqua's detailed analytics and reporting enable businesses to track email metrics such as open rate, click-to-open rate and click through rate for detailed analysis of email campaign engagement activity. This, along with social media listening tools, browsing data and purchase histories, creates more personalised user experiences, driving conversion.
Talk to one of our digital marketing specialists today
Get in touch

Xigen & Eloqua
Our in-house Eloqua specialists create rich customer profiles targeting audience segments with the right information at the right time for optimum conversion. Everything we do is device agnostic, meaning your campaign content will look great on computer, table and smartphone, and will be more likely to be clicked and read.
Emails and email automation play a key role in successful EDM strategies. Our integrated digital marketing campaigns include pay-per-click, social media, offline advertising and remarketing, all vital components in communicating and reinforcing your message.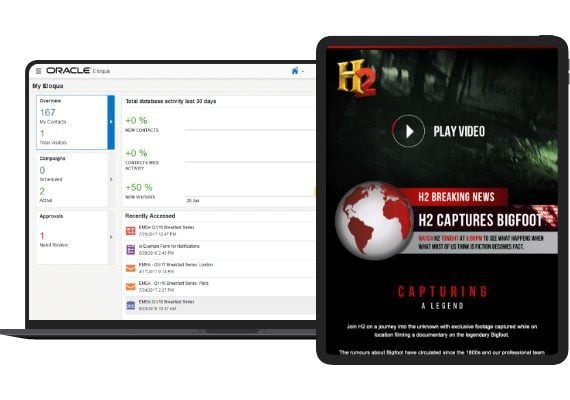 TESTIMONIALS
"Xigen are able to translate our business requirements, push digital barriers and deliver high-end customer experiences. Their transparency and constant communication is a breath of fresh air."
Rob Cary, NHBC
"Have worked with Xigen for many years supporting a diverse range of sporadic requirements, for myself and my clients. They always deliver. Offer honest advice, and execute to the high standards we demand. A pleasure to work with."
Sam Furr, Tappable
"Xigen's work will help us to deliver a better customer experience, resulting in more sales, and ensure we have a more robust eCommerce platform as we continue our strong growth."
Mark Rodol, Models Own
"Our new site has cemented our strong local SEO credentials across all localities. The site is easy to update with fresh content and the blog a useful tool in our social posting approach. Xigen have been accommodating and more than patient with us along the way."
Angus Matthew, Avery
"After eight successful years working with Xigen we have almost without exception accepted all Xigen's recommendations which has resulted in a strong increase in online users, orders and revenue. The value they have added to us as a business has been immeasurable. We're looking forward to working closely with Xigen for many more years."
Gary Thompson, Jackson's Art Supplies
"The site they have delivered will play a crucial role in supporting our global marketing efforts in a trillion-dollar business travel marketplace. It's important that our marketing channels are as simple to engage with as our product."
Kate Fletcher, SalesTrip
"Xigen created a fantastic user experience in-store, enabling transactions to be completed quickly and effectively. The bespoke checkout solution worked perfectly, both for the customer buying in-store via the iPad and the Epson team managing the orders."
Lucy Brackett, Epson