insights | 26.06.2020
Choosing an enterprise eCommerce solution for your business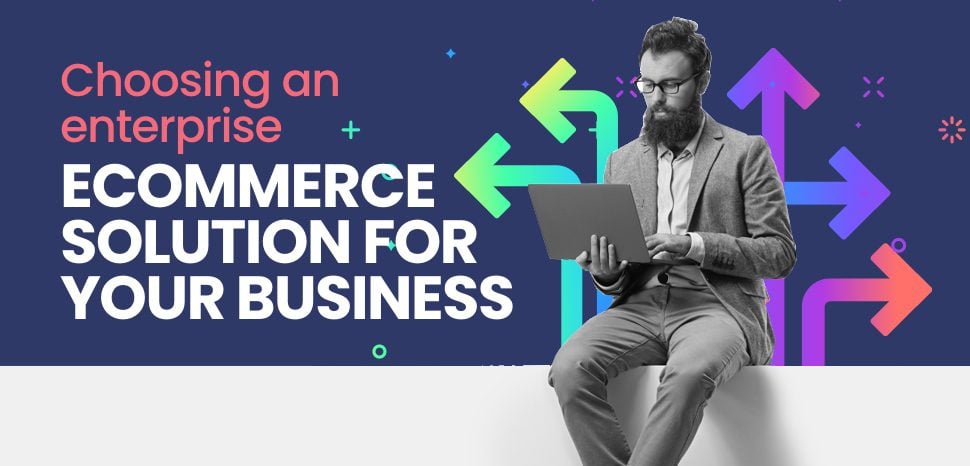 Article topics
Magento Commerce (Enterprise)
Salesforce Commerce Cloud
BigCommerce Enterprise
IDM WebSphere Commerce
Oracle Commerce Cloud
SAP Commerce Cloud
Conclusion
Your company relies on an eCommerce solution to be able to handle multiple functions at any one time – from connecting to third-party systems to managing orders in large quantities across countless currencies. Therefore, the enterprise eCommerce platform you choose has to be able to handle all of your business requirements.
The market is incredibly competitive, so there's pressure for companies to keep their finger on the pulse, avoid complacency and revisit ways to outperform competition. Not only will you want to find ways to reduce costs, heighten productivity and increase revenue but you'll also be striving to sustain growth and scale the business. These are all things you'll find difficult to achieve without providing excellent customer experience.
The perfect platform for your business can do all this and more. From assisting with fruitful business management, providing exemplary customer experiences and discovering fresh audiences to administering targeted marketing strategies – the right enterprise eCommerce platform for your business shouldn't be underestimated.
There's much to consider, and investing in a faster, more secure enterprise eCommerce solution with the capability to scale will keep your business on its toes and moving in the right direction.
However, as there are so many fantastic platform options to choose from, it can be difficult to work out what's best for you. If your current solution is holding you back, you may be considering switching to a more robust enterprise eCommerce site. You'll need additional features that standard eCommerce solutions are unable to offer – that's why we've put together this round up of some of the best enterprise eCommerce platforms on the market. Learn their capabilities to discover which solution is the perfect fit to future proof your business.
Magento Commerce (Enterprise)
The Magento Commerce edition boasts an enhanced offering of premium features appealing to medium to enterprise-level businesses. If you're in search of scalability, amazing functionality and strong enterprise performance, this could be the right fit for your company. This platform offers unlimited customisation and unrivalled shopping experiences – not only that but the open-source software means you'll have the flexibility to cater to both B2C and B2B in one place.
Magento is a serious consideration for a wide range of businesses thanks to these customisation capabilities. Developers are able to build custom-made websites specific to the requirements of any enterprise business.
Some of the stand-out features of Magento Commerce include:
Usually achieves higher SERP rankings than Community Edition and is more visible in search results
The checkout process is swift, providing customers with seamless and fuss-free transactions
Hardware can manage 3.5 million page views and 250,000 orders per hour
Guaranteed 24/7 technical support and dedicated account manager
Offers security support along with being PCI compliant
Multiple language pack ready to use and also a number of payment gateways to support a range of languages and currencies
Thousands of extensions and themes to choose from to customise and enhance your UX
Caters to both B2B and B2C on one platform
Powerful business insights – making it easier to calculate key metrics and thus increasing selling capabilities
Simple to launch campaigns and products thanks to Content Staging and Preview functions
Using Content Staging means you're able to create dynamic content that transforms throughout the year automatically on previously scheduled dates
User-friendly interface means you can create for social, mobile and in-store without support from IT
Easy to build positive relationships with customers thanks to features such as the Magento Enterprise Rewards points system, gift registry and multiple wish lists
Salesforce Commerce Cloud
As the sector changes and grows, Salesforce is one of the top eCommerce solutions for evolving and developing ahead of the curve. Commerce Cloud is cloud-based and offered as a Software-as-a-Service (SaaS) solution – whether your POS priority is for mobile-first, online shopping or eCommerce, this platform has a combined function for everything you offer.
This platform positions itself as a best-in-class option for B2C retailers and consumer brands with strong profit margins. This is, in part, due to the fact the licensing model of Commerce Cloud operates via a revenue share with Salesforce, so it works on an operating expense basis with no upfront costs for the licence.
The features of the platform can be broken down into three clear categories: experience, operations and intelligence. You can expect UX and engagement to be high with Commerce Cloud as a result of easily being able to manage content and promotions, but also products, services and pricing. As with Magento Commerce, the data-based insights Salesforce offers are also revered for being able to guide intelligent business decisions. You'll find that operations are also seamlessly functional, linking every stage in the process to fulfil orders.
Large brands such as CocaCola, Puma and PetSmart trust Salesforce Commerce Cloud with their eCommerce solutions, so it's proven to be highly scalable and can manage global enterprises.
Some of the stand-out features of Salesforce Commerce Cloud include:
Regular upgrades around eight times a year, seamlessly delivering fresh and enhanced features without disrupting your business
The scalability of Commerce Cloud is one of its biggest draws – as it's a cloud-based platform, its capability to handle increases in demand with no external intervention is desirable for large enterprises
Suite of cloud services accessible to customers – including marketing services
Social integrations
Shared revenue model
Suite of mobile-first capabilities to help convert mobile shoppers
Customer segmentation and segment specific pricing
View all of your orders, inventory, activities and more from a single view
One-touch payment options
Strategic guidance from a Salesforce 'success manager' devoted to your account
Combined management of multiple sites and built-in localisation, meaning your brand can enter untapped regions faster and scale quickly
The option for hyper-personalised 'AI-powered experiences'
BigCommerce Enterprise
Another SaaS service, BigCommerce Enterprise is part of an increasing range of website-hosting solutions for enterprises in need of help when it comes to managing their online presence. BigCommerce Enterprise is expressly geared towards global companies and lists large brands such as Toyota and Ben and Jerry's among its customers. BigCommerce is designed for companies in search of increased customer support and the guarantee of their site being able to manage traffic in droves.
How much your BigCommerce subscription will cost is entirely dependent on your sales. If you were looking to calculate this cost before committing to a subscription, the factors to consider are your average order value and average number of orders processed per month. This pricing model doesn't suit all businesses, so it's important to consider this carefully.
Something BigCommerce Enterprise does really well is make things uncomplicated. The dashboard is incredibly easy to use thanks to being clean, clear and well laid out – it also comes with a number of video tutorials showing you how to navigate the toolbar. Once signed up, adding products, discounts and applications to your company website could be more simple.
Some of the stand-out features of BigCommerce Enterprise include:
Enterprise-focused feature set without having to rely heavily on third-party apps
Tailor-made for enterprise websites with a focus on the core platform
Unlimited API calls
Integration with social media for sharing
Single-page checkout
Automatic scalability to handle growth on an unlimited basis with 99.9% uptime
BigCommerce provides 24/7 support for its customers
More than 70 different discounts to choose from in order to simplify the scheduling of discounts without needing complex code or external apps
BigCommerce boasts a retention rate of over 99.5% for the enterprise customers it serves
Bank-grade security, including DDoS attack protection as standard
Supports over 40 payment gateways
Easy to integrate with external software and applications
The ability to handle complex catalogues on a large scale
Offers related products, custom fields, bulk pricing and pre-orders as standard
Advanced shipping options
IBM WebSphere Commerce
WebSphere Commerce is highly focused on delivering a customer-focused experience for the brands using the platform. IBM's eCommerce platform is extremely flexible and can cater for businesses of all sizes, across a multitude of industries, but the Enterprise edition is an advanced platform perfect for large scale B2B and B2C companies.
As the customer is at the heart of everything eCommerce businesses do, WebSphere Commerce certainly offers an alluring product. This customer interaction platform provides tools that are simple to navigate so you can not only create but also manage your marketing efforts through targeted campaigns, merchandising, catalogue and promotions.
WebSphere Commerce is also highly customizable and scalable – ideal for a business looking to adapt and grow while using the same platform for the journey.
Some of the stand-out features of WebSphere Commerce include:
Web 2.0, social and mobile commerce features – meaning you can reduce costs when developing and deploying the site
The 'IBM Management Center for WebSphere Commerce' is a suite of tools to manage everything from catalogues and campaigns to prices and page layouts
The architecture of WebSphere Commerce supports globalization, so is translated into 13 languages, can customise currency, taxation rules and cultural formats
Marketing tool boasts accurate features targeting customers – for instance, the site will automatically generate product recommendations personalised to each visitor
Seamless marketing tool can help to drive traffic and improve conversion rates
'WebSphere Commerce search' provides features such as automatic search term suggestions
The platform itself is easy to manage, meaning it's aimed at business users themselves to be able to use as opposed to IT
Industry-leading hosted web analytics solution – reduces the time needed to install web analytics
Oracle Commerce Cloud
Another cloud-based SaaS platform, Oracle Commerce Cloud allows its customers to save on budget, be incredibly agile and grow with ease. It's perfect for large businesses looking to enhance what they can offer their customers in the ever-competitive world of eCommerce.
A big appeal from this platform is its ability to serve both B2B and B2C customers within one SaaS platform. It also delivers a high quality of personalised cross-channel customer experiences across all touchpoints – whether that's in store, on the web, via a mobile device or on social media. One of the fantastic real-life examples of this is Commerce Cloud customer Laura Ashley – the brand has been able to produce and manage integrated customer experiences across both traditional and digital channels with this platform.
Other global brands relying on one of the industry's highly ranked eCommerce solutions are Moleskine and Michael Kors.
Some of the stand-out features of Oracle Commerce include:
The flexibility to seamlessly scale during busier times and optimise performance
Transparent, predictable costs – pricing is based on page views
Proven performance record having provided services for some of the world's leading retailers
Integrated features are included meaning the need is lower for integrations and IT input
AI fuelled personalisation and product recommendations
AB testing, content and image scaling
Full support for mobile shopping
Customisable to meet with the needs of your business via a centrally managed system using drag-and-drop tools
From just one interface, users have an overview of, and can manage the customer experience
Expand to new markets and countries using multisite
Oracle Commerce Cloud was designed to support innovation, so is mobile and API-first
No limitations for bespoke site experience, plus complete brand control
SAP Commerce Cloud
Formerly SAP Hybris, the SAP Commerce Cloud is a cloud-based omnichannel eCommerce solution. It caters for B2B and B2C companies, and also businesses offering both. Another platform specialising in personalisation, SAP Commerce Cloud can deliver this on a global scale, bringing together all customer touch points.
Due to the ever-evolving nature of the industry, the customer journey has become increasingly complicated, and will continue to move in this direction. This is why the ability to be able to reach customers via multiple channels has become more vital. Without a commerce solution catering to this need, a brand could find itself adrift of the competition. That's why SAP Commerce Cloud provides an omni channel solution catering to both B2B and B2C users.
Some of the stand-out features of SAP Commerce Cloud include:
Personalised customer experiences as standard
A multitude of preloaded features to choose from
Centralised and easy-to-use content management system
'SmartEdit' website editing tool with a drag-and-drop functionality
Single view of inventory for the user, meaning the customer can buy or return without harming levels of stock available
A catalogue of 'Accelerators' specific to industries including travel and financial services
'Assisted Service Mode' offers real-time customer support
SAP Commerce Cloud is adaptable to your business needs
24/7 monitoring and regular performance checks
User interface is adjustable to seamlessly suit all devices
Integrates with the SAP solution suite with ease
A suite of how-to videos available to upskill your team with ease – learn how to use features and functions, fast
Conclusion
There are some truly incredible enterprise eCommerce solutions out there. When making the decision on your preference, you need to think about what matters most to you. For a large-scale, forward-thinking company, you'll constantly be reviewing processes and the user experience meaning you'll need a flexible platform to navigate this journey with you.
Are you ready to take your eCommerce solution to the next level? At Xigen, we want to collaborate to help your business reach new heights. We understand that all businesses are different and face unique challenges and that's why we take a bespoke approach – there is no 'one platform fits all' as there's so much to consider. Get in touch for a consultation with one of our eCommerce platform specialists so we can work together to build you the perfect solution.