insights | 05.11.2020
6 Magento alternatives that may be a better fit for your business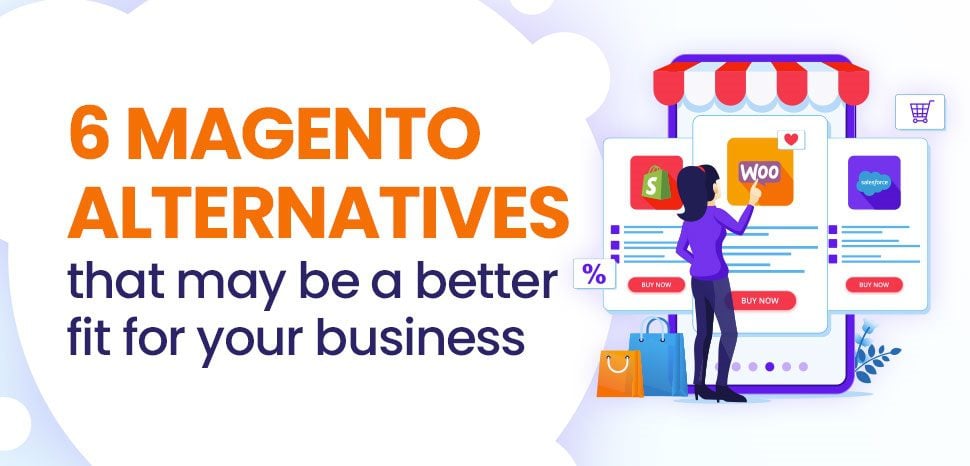 Article topics
A closer look at Magento
Magento Open Source
Magento Commerce
Alternatives to Magento
Final thought
Choosing the right eCommerce platform is a significant challenge, whether you are replacing a legacy platform, upgrading to a more sophisticated platform or starting from scratch.
Each proposition comes with its own set of considerations, challenges to be met and decisions to be made. Whatever your business needs might be, if you have been researching eCommerce platforms, then you will almost certainly have heard about Magento.
A closer look at Magento
Magento is one of the most popular eCommerce platforms available today. It's been around since 2007 (in beta version initially) and according to their stats, there are over 250,000 Magento businesses worldwide. It has 10% market share of the top one million eCommerce websites. This is compared to other eCommerce platform such as:
WooCommerce 26%
Shopify 20%
OpenCart 3%
BigCommerce 3%
There's no denying its popularity and its reputation for providing many successful eCommerce companies with a powerful and flexible platform from which to trade and manage their businesses. But that doesn't mean Magento is the best fit for every eCommerce business.
Magento is an enterprise level eCommerce platform which can be either hosted on physical servers or in-cloud with Magento's own Cloud Commerce or a provider such as Amazon Web Services (AWS). Magento is available in Open Source or Commerce editions.
Magento Open Source
Previously known as Magento Community (CE), Magento Open Source (OS) is an open source architecture platform. Magento OS developers are able to adapt and customise the platform to create bespoke eCommerce websites using its PHP source code. This can be an attractive proposition for businesses that want to create a unique shopping experience for their customers.
But Magento OS has its drawbacks. The total cost of ownership can be high:
Development time, whether using a development partner or employing inhouse developers, can be long
Hosting cost can be expensive with ongoing server support and maintenance
Security checks and updates must be implemented regularly
Maintenance costs are ongoing too, to ensure full webstore performance optimisation
Magento OS's highly customisable architecture is on one hand appealing to many businesses, on the other this level of customisation takes time to develop, meaning that some agility is sacrificed when it comes to moving quickly to innovate and maximise business opportunities in order to remain competitive, such as using headless commerce to create pop-up retail stores, integrations such as social commerce or for fluid conversion rate optimisation.
Magento Commerce
Magento Commerce is built using the same PHP code as Magento OS. It's an enterprise level eCommerce solution with native capabilities that are not included with OS, such as CMS, easier 3rd party integrations, mobile-friendly and more. This means less development time and less initial development cost compared with Magento OS, although with Commerce edition, plugins and ongoing development make longer term cost comparable.
Because Magento OS is designed for developers to create eCommerce websites at the code level, it has few native features. Magento Commerce has many more features included.
Alternatives to Magento
To help understand what Magento alternatives are available let's take a look at 6 eCommerce platforms that offer comparable and differing features to Magento. First up is WooCommerce.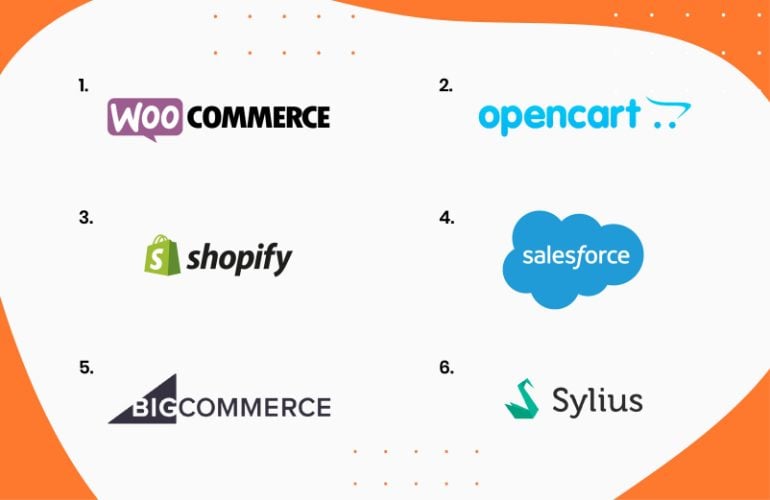 1. WooCommerce
WooCommerce is a powerful open source plugin for WordPress. Businesses that use WooCommerce benefit from its modularity with access to a world of plugins built specifically for WooCommerce. Plugins can provide eCommerce businesses with fast, reliable solutions for specific areas of functionality such as live chat, payment methods, multi-currency, optimisation, analytics, the list goes on (and on).
But WooCommerce is also open source, so developers can, just like Magento OS, create highly customised eCommerce website elements, whether it's for webstore frontend, backend, marketing, analytics or logistics, giving businesses the flexibility to choose between 'off the shelf' plugin applications and bespoke functionality.
WooCommerce's open source and modular architecture make it comparable to both Magento OS and Magento Commerce.
Perhaps the main difference between WooCommerce and Magento is the way they are hosted. WooCommerce exists on the WordPress CMS, so you don't have to pay for server hosting. Magento requires a server(s) to operate and that takes a lot more resources to manage, in terms of cost, and in personnel if you choose not to partner with a specialist Magento developer.
WooCommerce features:
Pre-installed payment gateways
Flexible shipping
Checkout optimisation
Multiple shipping methods
One-page checkout
Multiple shipping prices
Set default currencies
SEO
Automatic taxes
Discount coupons and codes
Custom tax calculations
Product reviews
Geo-location
Dashboard
Add/manage products
Reporting and analytics
Product types
B2B
Inventory management
Mobile-friendly
2. OpenCart
OpenCart has an open source, modular structure, providing a wide range of development possibilities. Similar to WooCommerce, it's initial development time can be faster using the modular route, but with the option for more bespoke elements and features using code.
OpenCart's intuitive interface is user-friendly. It supports many powerful features for larger businesses, such as API integration for 3rd party platforms, sales, marketing, order fulfilment and social media.
Offering customers outstanding shopping experiences is a number one priority. OpenCart has great UX features such as useful product filters, top 10 payment methods including PayPal, Amazon Pay, LIQPAY, Paymate, Square and Skrill, and has 40 different languages including Greek, Japanese, Chinese, Hebrew and Arabic.
OpenCart features:
Multi-currency
Subscription services
Multi-language
No cap on number of products/categories
Multi-store
Ratings and review
Order management
Sales tax management
Permission management
Email marketing
Product catalogue
Role-based permissions
Analytics and reporting
B2B
SEO
Mobile app
Shipping management
3. Shopify
Shopify is a modular solution, so compared with Magento OS, customisation possibilities are limited (its source code is not available for modification). However, there are a lot of possibilities available and some great features, such as headless commerce to reach consumers beyond your webstore (popup stores, kiosks, smart mirrors etc.).
It also supports popular drop ship plugins, offers 3rd party integrations, upselling tools, order tracking, returns management and CRM integrations. With Shopify the initial development costs are considerably lower for large sellers, although there are transaction fees and additional costs for plugins and extensions, which cost-wise can mount up.
Because Shopify Plus is an SaaS, cloud hosted solution, ongoing maintenance costs are lower too compared with Magento.
Shopify features:
Up to 8,000 orders per minute
Custom back-end workflows
Highly scalable SaaS cloud software
Integrations with other 1,500 apps
Simple flash-sale management
Mobile-friendly
Automatic task management
100+ payment partners
Real-time event dashboard
B2B (limited)
Review orders before invoicing
Mobile app
PCI compliance
4. SalesForce Commerce Cloud
Salesforce Commerce Cloud is a cloud-based SaaS eCommerce platform. It offers functionality and features developed to offer highly optimised webstore performance.
With powerful features and the introduction of machine learning, Salesforce Commerce Cloud is ideal for eCommerce businesses that want to create highly personalised shopping experiences. There are many in-store extensions, social integrations and inventory management tools too.
An SaaS eCommerce platform enables you to focus more on running your business without having to devote resources to maintaining backend functionality, such as webstore stability, scalability, maintenance and security, as this is all managed by Salesforce in the cloud.
Salesforce Cloud Commerce offers B2C and B2B features:
B2C
Multi-site options
Global scalability
Unlimited price book options
Internalisation
Full-featured cart and checkout
AI-powered experiences
Merchandising and marketing tools
AI-powered business tools
Native targeting A/B testing
Certified integrations
Catalogue management
Mobile app
SEO
B2B
Multiple catalogues
Currency localisation
Multi-accounts
Single view of your customer
Order on-behalf from sales service
Additional platform cache storage
Quick order and reorder templates
Real-time dashboards and reports
Subscriptions
Multi-channel orders
Multiple carts
Mobile optimised design
Tax integration
5. BigCommerce
Another SaaS eCommerce solution, BigCommerce has many off-the-shelf features and templates to get your eCommerce website to market in super-fast time with low initial development cost. This doesn't mean that your business will be restricted to using standardised elements for your webstore. Customisation is possible with HTML, CSS and PHP coding, but will require a development partner to leverage that level of customisation.
BigCommerce offers powerful business features, such as strong SEO capability, inventory management, custom orders, offline commerce integration, catalogue migrations, and CRM tools, with flexible APIs and webhooks providing headless commerce shopping experiences.
Unlike Magento, there's no multi-store function as such, but BigCommerce's headless capability can offer a workaround if required.
BigCommerce features:
Marketing and conversion tools
Catalogue API
Side-by-side product comparisons
Cart API
Public and private wish lists
Single-page checkout
Drop shopping management
Abandoned cart saver
Reporting and analytics
B2B
Inbuilt tax calculator
Mobile app
6. Sylius
As with Magento, Sylius is an open source eCommerce platform that is highly customisable. Based on Symphony framework, Sylius uses PHP coding to create bespoke eCommerce solutions with flexible backend, thanks to its 'API-first' philosophy. That means Sylius webstores have headless commerce capability for easy 3rd party integrations, flexible mobile and offline trading, and advanced multi-store capability.
Sylius requires hosting either on a physical server(s) or in-cloud. Compared with Magento, Sylius offers faster development time, even though it's not SaaS, so your webstore would be relatively less expensive to build, with faster time to market. It's worth considering Sylius if you want a non-SaaS solution but need to get your webstore up and running quickly.
Sylius features:
Highly customisable
Catalogue management
Advanced browsing options
Inventory tracking
Highly scalable
Pricing management
Product management
Advanced API
Advanced multi-store
Reporting and analytics
Full featured cart and checkout
Tax calculation
Single-page checkout
Shipping management
Multiple currencies
Social media integration
Email marketing
SEO
Dashboard
Mobile app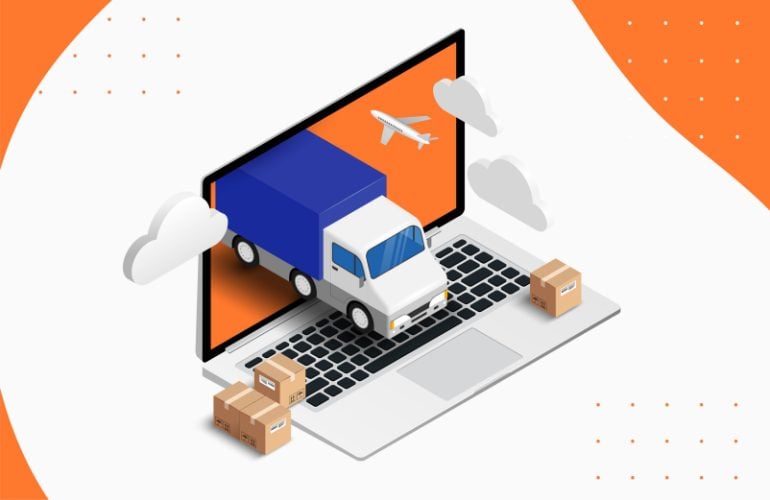 Final thought
Choosing an eCommerce solution that's right for you is probably one of the most important business decisions that you will make. Get it wrong and it could waste a lot of money and resources, and even damage your brand reputation. Get it right and your eCommerce website will grow and evolve with your business, giving your customers consistently outstanding shopping experiences.
Magento is one of the biggest eCommerce platforms and it has a lot to offer businesses—indeed it is used by many successful brands, such as Ford motors, Vizio, Olympus and Liverpool FC. But that doesn't necessarily mean that it will be a good fit for your business.
Before you make your decision ensure that you have detailed what you want from your eCommerce platform and your webstore, and that you have a clear road map of where your brand and business is heading so that you can hold that up to the platforms that you consider to see how well they fit your business goals.
Ultimately, shop around, get professional advice, lay out the functionality that you want and always look for hidden costs.
If you would like genuinely agnostic advice and guidance on choosing which eCommerce platform is the best fit for your business, then get in touch today for a chat with one of our eCommerce experts.