insights | 06.11.2019
Top 5 Email Designs November 2019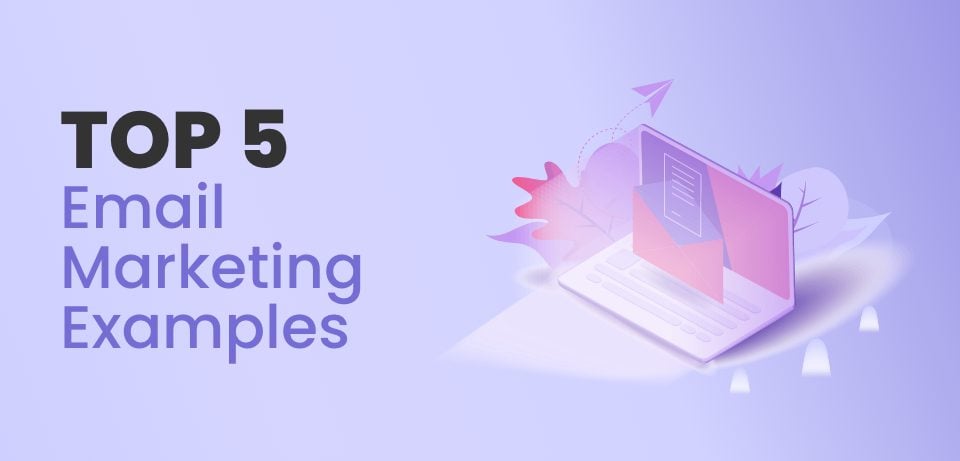 Most of our email inboxes are swamped with a ton of automated email newsletters that we regularly pay little or no attention towards, but every so often we get an email newsletter that's so captivating we read, click and share, engaged in every way possible!
Each month our designers find countless email marketing design inspirations to boost our creativity and it's time we shared some with you.
So, without further ado, here's our top 5 email design inspirations for November 2019.
Lyft – Lyft Scooters
This email from Lyft demonstrates a great use of minimalistic GIFs. The movement that GIF animations create are one of the greatest engagement techniques as they steer away from plain text and images to more engaging content for users with shorter attention spans.
GIFs allow you to animate practically every element, from images and text to the entire background. As a precaution, you should always ensure that the first frame of your GIF is meaningful and captivating in the event that the animation doesn't play.
To see the animation click here
Game Stop – Need Cash?
Big Typography is a growing trend for email campaigns, with marketers regularly combining it with the phrase 'the bigger, the better'. The use of large text is a way to grab the audience's attention and prompt their interest. By creating a heading as large as GameStop has, you are practically forcing the viewer to read your message. As this is the case, ensuring what is being said is HIGHLY captivating is absolutely essential.
It is vital to ensure that it's not too aggressively displayed as this can scare off users, so examine the design from a distance and be aware that the heading should be the element that audiences' eyes naturally gravitate towards.

Aldo – Can't get enough of Cassedy? Just wait.
2019 has shown a huge spike in large full-width images to captivate the audience's attention using all the screen space available. Often partnered with a tagline and call to action, high-quality, large images do half of the talking when convincing the user to convert. Aldo is a great example of using a large image to provide an understanding of the product on sale. Combined with block text in one bold colour, also taking up the full width of the screen, to display a 'what's in it for me' marketing technique, shows the audience the benefit of buying from Aldo compared to similar companies. And I mean really, you can never get enough of Cassedy!
Good eggs – The timers ticking …
Minimalistic designs are becoming more frequently used, with lots of empty space and very little text. This design is used as a way to deliver the message in a clean and obvious manner. These designs tend to incorporate the colours associated with the brand, like the Good Eggs example, using mainly white to replicate the colour of an egg. The clean space and little text enables readers to scan through the email effortlessly, using a sense of urgency in the text to explain to the users they need to act quickly or they will miss out on the offer.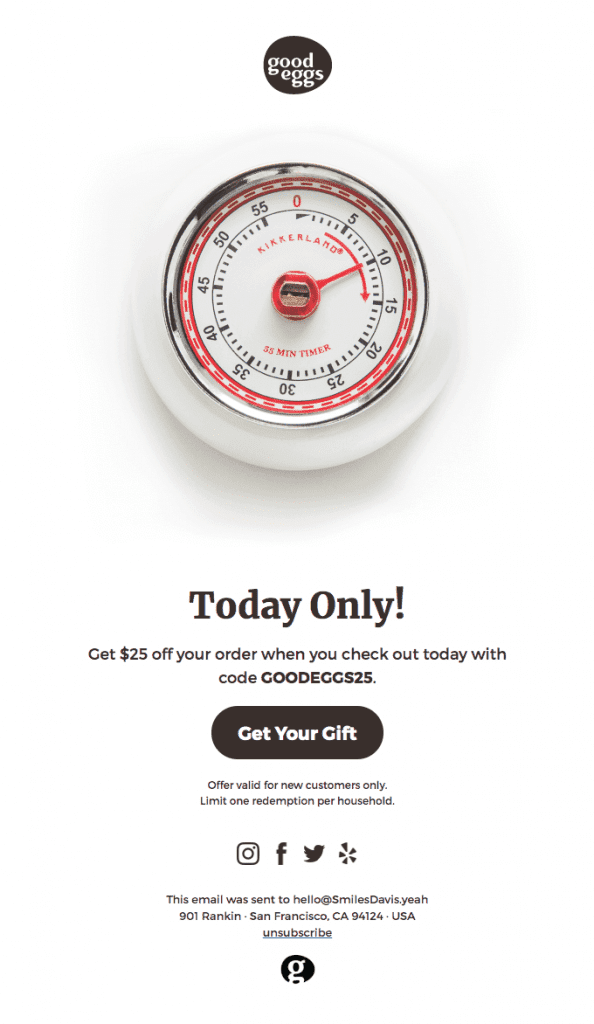 Spotify – Your monthly glimpse at what you've been up to on Spotify.
Personalisation is key to engaging your audience and Spotify had got this spot on. Dynamic content is centred around a variety of information sources to support marketers in speaking to each individual on a more personal level. Applying personalisation in email designs can improve open rates by 26%. Spotify has not only compiled a list of most listened to and loved songs throughout the past month, but has also created a closer, longer lasting bond with the individual reader by suggesting songs they may like, based on what they have been listening to recently. This generates a beautiful email that looks and feels more like a personal message.
Conclusion
Email marketing's main source of inspiration is sometimes directly at your fingertips, so why not delve into your inbox and see what catches your eye? Here at Xigen, we aim to ensure we provide excellence from start to finish, always focusing on quality in everything we do. In order to keep our email marketing output to the highest quality we're on the constant hunt for the most innovate and creative ideas and latest trends to help inspire us with our email marketing campaign designs. Our e-marketer's use the most powerful design tools around today to enable all businesses, from start-ups and SMEs to enterprise clients, unlock the benefits of email marketing and communication. So, if you're looking for a team of highly experiences email marketing specialists to design your next campaign, get in contact with us!