Web Design Showcase
This month our talented and experienced web designers, developers and digital marketing specialists discover the most impressive dark themed websites ready to get you into the spooky spirit of Halloween this October!
Two Chimps Coffee Limited – Ecommerce Website
Two Chimps Coffee Limited are a new coffee company who have successfully produced a creative ecommerce website. Often darker designed websites are useful for sites with minimal content. When attempting to achieve a simple and straightforward design, wise designers often lean towards  a darker skin. This is a simple way to make the page feel fuller. Although, in these cases, a minimalistic colour theme should be taken into consideration with plenty of imagery. The Two Chimps design has used a simple black and white outlay featuring a nice illustrated border which includes company details.
Formigari – Brochure Website
This brochure website uses large imagery and simple text to convey their understanding of models' stone solids to make any environment unique. Countless web designers (and even users too) complain that dark designs are awful for usability, especially readability. A common criticism is that it strains the user's eyes, which can result in a less pleasurable overall experience and can drive visitors from your website. Although this might be the case our design team agreed, a dark background is not completely accountable for poor readability, as when analysed, readability is heavily based around the typography used and correct element use throughout the site. This can include using the right font sizes and colours, also paying attention to the line-height and white space.
Creature Technology - Brochure Website
Oregon Gridiron – Brochure Website
These next two designs from Creature Technology and Oregon Gridiron both display a very simple brochure website layout. Sites such as portfolio/brochure and photography sites, usually fit better with dark backgrounds. One leading reason for this is because these types of sites often rely more heavily on images and bold text to deeper engage with visitors. Although darker backgrounds can make it more difficult to read large blocks of text, and see photos and graphics, short amount of texts often look great on dark backgrounds, ensuring the key features stand out on the page.
A Ghost Store - Ecommerce / Brochure Website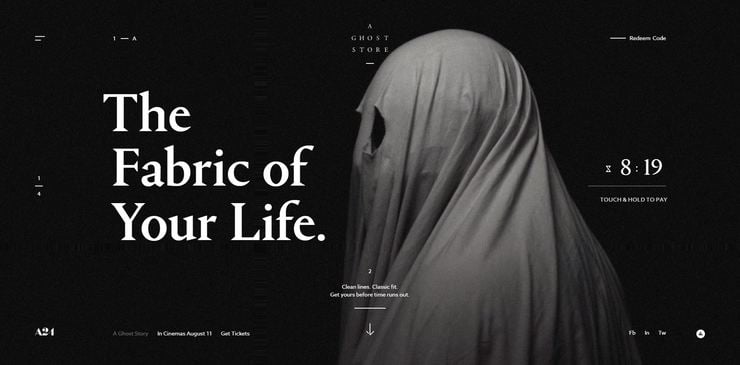 You thought we'd forgotten about the spooky theme, didn't you? Well for our final website design example of this month we've discovered a rather ghoulish site. This ecommerce / brochure website uses a large hero video to cover the entire screen, captivating the audience to focus on the main feature of the website, which is the ghost. They have successfully adjusted each individual element to accomplish an aesthetic elegance in their dark design, as you would so similarly for a light design.
Conclusion
This month we looked into the darkest themes about. A dark theme will not be appropriate for all types of websites, depending largely on what the website itself is about. If designed correctly and you believe a dark design can improve your brand, fitting with your site's content, then its definitely worth considering.
Our web design team meets every week to critique each other's work and share the best website examples that we've seen over the last few days. If you'd like to find out more about our design approach or have a project in mind then please get in touch
*The web design examples above are some we discovered whilst carrying out research for our clients and are not affiliated in any way with Xigen.*
Back
Thank you
Your message has been received; we've sent you a confirmation email for reference.
Our customer service team usually responds to emails within 48 hours. Please feel free to call us in the meantime.
PHONE +44 (0) 203 713 7456
Got some time to kill?
Why not read some of our great articles and insights?
NEWS AND INSIGHTS
Start a conversation
Want to discuss an ecommerce or digital marketing project? Interested in working with us? Or do you have a question? Share what's on your mind. Get in touch today.