Article topics
Why is great eCommerce design so important?
Design inspiration: The best eCommerce websites
Nike
Skullcandy
Allbirds
The Soap Co.
Physiq
Apparel Oi Polloi
Fronks
United Sodas of America
Conclusion
As an SMB, the power of your eCommerce website cannot be underestimated. A beautiful, easy-to-navigate site that caters to your users is invaluable. Whether you've been thinking about launching an eCommerce website, or even considering a website transformation, now is the perfect time to take inspiration from some of the best eCommerce websites on the market.
We've selected some of the best examples of eCommerce design to give you ideas for how your site could look with truly great UX - and explained what you can gain from improvements in this area.
Why is great eCommerce design so important?
In an increasingly competitive online landscape, excellent eCommerce design is becoming more important all the time. If your eCommerce offering isn't up to scratch, customers will be able to look elsewhere. Whether it's slow loading times that keep them waiting or a poor user journey that makes a site difficult to navigate, any factors contributing to bad UX could hit you hard.
In fact, a report from PwC showed that 73% of consumers consider customer experience to be an important factor in their buying decisions. This comes on top of our own research, which found that customers consider an easy user experience to be the most important aspect of a website.
Design inspiration: The best eCommerce websites
With so much choice out there, do you have a firm idea of how you want to present your brand? Some businesses do - and, if so, that's a fantastic starting point to work from - but many don't and we understand that knowing where to start can be challenging.
Many of the sites we're going to showcase here boast features of the 2020 design trends we identified at the start of this year. From minimalist, simplistic design to black and white colour schemes and even bold uses of colour - the important thing to keep in mind is your site must represent your brand. Stay true to what you offer and your brand identity and you'll be on the right path. Your customers should instantly recognise 'where they are' when they visit you - just as they would if they went to a physical store on the high street.
Take a look through some of these beautifully designed websites, do your research and pull together a plan of action for success using these for inspiration:
Nike
This sportswear brand is always at the forefront of innovation, so it's little surprise that Nike ticks many of the boxes when it comes to providing great eCommerce design. Its site is bold, clean and easy to navigate while presenting the user with engaging, interactive and advanced product visuals.
Nike's GB site has a white background with a boxed layout and a clear navigation bar. This clean background and simple layout allows the products to shine. The advanced product visuals display models moving while wearing Nike items, which is a smart move. Why? Not only is this imagery engaging, it also shows a potential customer how the product looks in motion, helping them to better visualise themselves wearing the item.
Another fun and on-trend feature Nike plays with is mixing elements - with quirky graphics and illustrations used.
This clean layout is also geared towards being mobile-first. What we're looking at here is a shining example of fantastic and modern eCommerce design.
Skullcandy
This provider of cutting edge headphones, earbuds and other audio accessories presents its vibrant energy from the moment users first look at the homepage. High-quality product imagery is backed by bold colour schemes, motion visuals and a mixture of elements. While there's a lot going on, it's been executed to perfection to contribute to a bright and engaging, easy-to-navigate and gorgeous eCommerce website.
Skullcandy is clearly a brand passionate about bringing music to the world and aiming to appeal to creatives and it is doing a fantastic job of hitting this brief.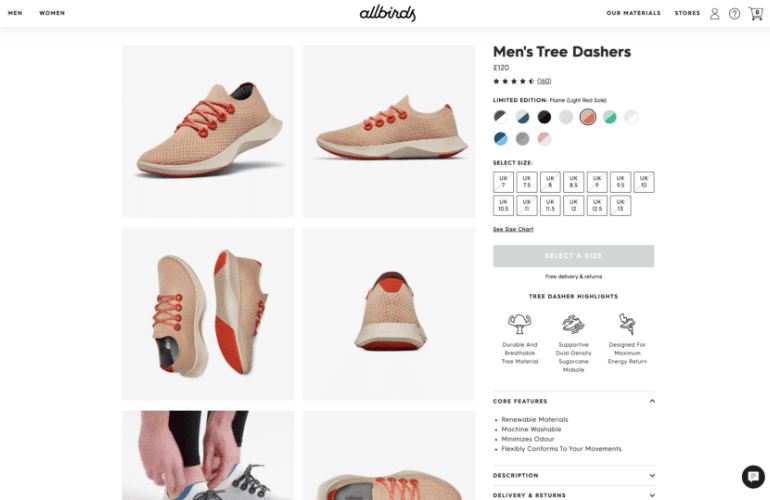 Allbirds
This is a brand website we've spoken about before - but it definitely deserves another shout out here. Allbirds offer its customers an incredible eCommerce experience. Boasting a bold hero banner showcasing products with professional and striking imagery - the site is inviting for consumers from the first look.
Allbirds is a footwear company that produces eco-friendly products. These items are made from sugar cane, wool and tree bark, so the product is consciously made with ethics in mind - this is all represented on the website in a fun way with illustrations, interactive imagery and motion graphics.
The Allbirds site is another that utilises a white background to help the products and imagery pop off the page - a fun, quirky and well laid out eCommerce website designed to perfectly serve its users.
The Soap Co.
When the primary focus of your business is to sell soap, there's little point in dressing up your website with bells and whistles. Consumers want to find what they're looking for quickly and easily, while experiencing a great user journey. The Soap Co. executes this perfectly. This business prides itself on selling quality products with minimalist design and has a commitment to being environmentally friendly and helping the disadvantaged. The design of this eCommerce website makes it incredibly easy to navigate and with a classic white background matching the minimalism of the brand's general design. This neutral backdrop allows the fantastic product imagery to shine, showing the customer exactly what they're looking for.
Physiq Apparel
Busy consumers often want little fuss and swift service - so Physiq Apparel is an eCommerce site they'll love, offering a chance to shop straight from the homepage. This sports clothing company ensures its products are the star of the show on the site, starting with a dominant hero banner showing off product photography.
The homepage is set on a clean background with a section of 'trending products' boxed out, ultimately offering a neat, easy-to-use website. This is a prime example of designing an eCommerce website with a view to make the shopping experience simple for your potential customers and convert them into returning customers.
Oi Polloi
You just know this site is going to be fun, and it doesn't disappoint with bold colour schemes, simple navigation, clear typography and quality product imagery. Oi Polloi is an independent menswear boutique and this eCommerce website perfectly represents what this store does. You can easily navigate the site to shop for exactly what you're looking for - whether that's a particular brand or item type - showcasing a perfect user journey.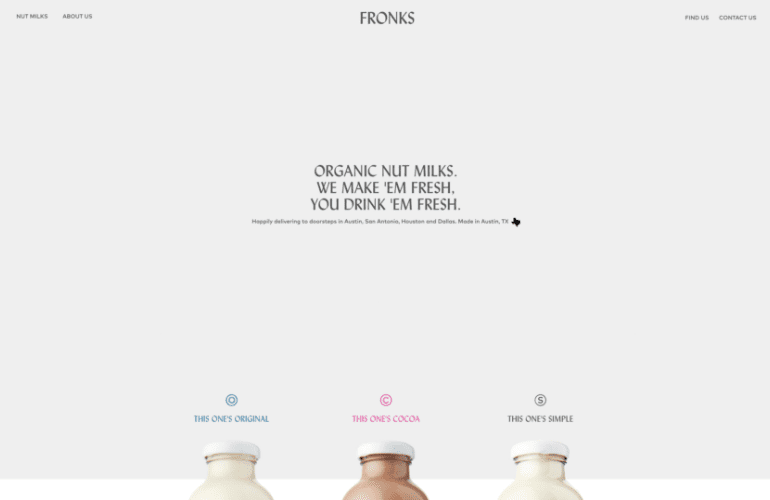 Fronks
Visiting the Fronks website makes for a truly unique experience. This brand is based in Austin, Texas and makes fresh, organic, vegan nut milks delivered in glass bottles. The website offers simplicity with a sprinkling of innovation to match that ethos. The company offers three types of nut milk and upon clicking on the product page, you're presented with an image of the beautiful product - simply a bottle in the middle of the page. By scrolling down, the bottle transforms into each different milk. While the presentation is simple, the design is innovative, offering the user something they can engage with and enjoy. Injecting the personality of your brand into your eCommerce site enables the customer to get a sense of what your brand is about - imperative if you're aiming for repeat custom and winning over newcomers.
United Sodas of America
This is a really modern - and incredibly scrollable - website. Presented with a clean, white backdrop with text in large, black block capitals, United Sodas of America has got its eCommerce website spot on. Scroll through and you'll be presented with vibrant cans moving from right to left, displaying the flavour of each soda the brand creates. Minimalist with interactive elements, the site is easy to use and it's really simple to discover what it is you're looking for.
Conclusion
Whether you're looking to create an eCommerce website from scratch or you're looking to reimagine what you already have, these are some of the best sites out there. We hope these examples of gorgeous eCommerce design have got you inspired to create the perfect site for your business.
If you're looking specifically for examples of the best eCommerce websites from particular platforms, then we have pulled together our favourite sites from both WooCommerce and Shopify to help too.
At Xigen, we are platform agnostic, meaning we work with a variety of solutions and only suggest and implement what we know will work best for your business. We offer a holistic and bespoke approach, so if you're in search of an innovative and creative approach to designing or redesigning your site, our specialists are ready to help you. Get in touch with us today for a discussion about what we can achieve together - we can start from a spark of inspiration from the examples above or work from a blank canvas, it's totally your choice.
Back
Subscribe to our newsletter for the latest industry news and tips.
Thanks for signing up!
You will receive a monthly digest of must-read insights and key resources to use and share.