WHY SHOPIFY?
Shopify is a world-renowned cloud-based ecommerce platform, with Shopify Plus offering a credible platform for enterprise retailers.
Shopify is a powerful omnichannel ecommerce platform. It has an 8% share of the global ecommerce market and over 600,000 active stores. Shopify is versatile, offering ecommerce businesses of all sizes a solid solution with the scalability for flexible growth and diversification.
As a cloud (SaaS) platform, Shopify is manageable from any connected location. For more intuitive omnichannel experiences, Shopify integrates seamlessly with a variety of APIs such as Amazon, eBay and Etsy, potentially opening up huge additional routes to market.
Talk to one of our Shopify specialists today
Get in touch

Key Features
Advanced Inventory Management
Advanced Product Management
Xigen & Shopify
We are a highly experienced Shopify developer. Our in-house team of specialists create reliable and secure Shopify solutions that are the perfect fit for ecommerce SMBs and enterprise level retailers.
Ecommerce markets are dynamic and often overcrowded. Staying competitive requires ongoing website support. It's important to us to provide pro-active support in this area, so we can keep you clued-in to latest Shopify web development trends, tools and updates, helping your business stay ahead of the pack.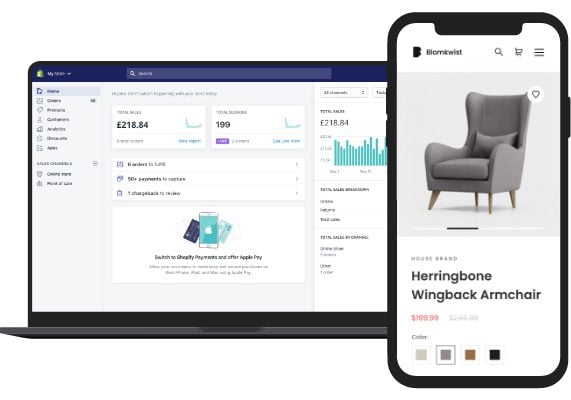 TESTIMONIALS
"We'd highly recommend Xigen to any ecommerce business looking to take things to the 'next-level'. We rely on their expertise and technical knowledge to help us grow in an ever evolving and complex digital World."
Gary Thompson, Jackson's Art Supplies
"Their speed and diligence always impresses us, as does the depth of knowledge and resources available to them. Xigen had no problems understanding the brief in context with the competitive environment, quickly translating our designs, wireframes, and requirement-stories into a slick and impressive front-end experience."
Akshay Patel, Dunelm
"We have more than doubled daily revenue since launching your checkout, this is mostly due to us improving and ramping up marketing efforts, but that has been entirely enabled by having the confidence in reliable checkout that works for everyone which is down to you guys."
Nick Horsley, Kokoon
"We believe that once launched ukprinting.com, along with our market leading packaging site ukpackaging.com, will move us closer to our target of £10 million annual sales."
Richard Tyler, 3P Direct Ltd
"Having worked with Xigen in the past we value their expertise in the ecommerce space. In particular, we like the fact they offer a one-stop shop for ecommerce, as demonstrated by what they have done with the redesign and replatforming of our site."
Mark Rodol, Models Own
"Having used various agencies in the past, we can say with confidence that the support from Xigen is second to none! Our unloved Magento site is finally getting the attention it deserves."
Sarah Binns, WindowWare
"Xigen are able to translate our business requirements, push digital barriers and deliver high-end customer experiences. Their transparency and constant communication is a breath of fresh air."
Rob Cary, NHBC