Shopify enables businesses access to a cloud-based, fully-hosted, established and effective eCommerce platform. We set up, maintain, migrate and develop Shopify eCommerce websites to enable the highest level of sales and performance.
As a global, ever-evolving platform, Shopify is constantly changing and developing and we're here to keep your business at the forefront of those developments, making best use of all the available tools and insights.
What is Shopify?
Shopify is a world-renowned cloud-based eCommerce platform, with Shopify Plus offering a credible platform for enterprise retailers.
Shopify allows businesses to create online shops backed by powerful tools, high level security and excellent functionality. Our Shopify eCommerce design and development specialists get and keep your site running to the highest standards.
Why use Shopify?
Shopify is a powerful omnichannel eCommerce platform, meaning it allows customers to buy from your business in multiple ways and always have the same high level experience. It has an 8% share of the global eCommerce market and is used by more than one million businesses worldwide. Shopify is versatile, offering eCommerce businesses of all sizes a solid solution with the scalability for flexible growth and diversification.
As a cloud (SaaS) platform, Shopify is manageable from any connected location. For more intuitive omnichannel experiences, Shopify integrates seamlessly with a variety of APIs such as Amazon, eBay and Etsy, potentially opening up huge additional routes to market.

Our Shopify eCommerce Service
Our Shopify eCommerce design and development service offers ongoing communication and expertise from our in-house Shopify specialists. Staying competitive requires proactive website support - trust Xigen to keep your business moving.
Cloud-based
Providing efficiency, security and reliability
Omnichannel Engagement
Enables a consistent experience for the customer regardless of where their transaction begins
B2C/B2B
Just as effective for business-to-business transactions as it is for business-to-consumer
Mobile App
Ensuring your eCommerce business is compatible with all devices
Digital Products
Enables the sale of digital products, such as ebooks and downloads, as well as tangible ones
Advanced Inventory Management
Allowing you to keep track of products and sales
Drop Shipping
To allow you to sell third-party products with ease
Social Media Integration
So that you don't miss out on sales wherever your customers are
SEO Ready
Benefit from built-in search engine optimisation
Customised Gift Vouchers
The option to easily create professional gift vouchers for your eCommerce business
Secure
Benefit from all the tried and tested systems of a global business
Advanced Product Management
Maximising sales opportunities
Free SSL Certificate
Giving your customers confidence in the authenticity and security of your website
100 Payment Gateways
Ensuring you are equipped to take payments from all payment methods
Detailed Reporting
To enable you to keep track of your business and grow
Multi Language
Speak to your customers wherever they are
Xigen & Shopify: Why Choose US?
We are a highly experienced Shopify developer. Our in-house team of specialists create reliable and secure Shopify solutions that are the perfect fit for small to medium sized eCommerce businesses and enterprise level retailers.
eCommerce markets are dynamic and often overcrowded. Staying competitive requires ongoing website support.
It's important to us to provide pro-active support in this area, so we can keep you clued-in to the latest Shopify web development trends, tools and updates, helping your business stay ahead of the pack.
We ensure that Shopify sites not only benefit from built in SEO benefits but also our on and off page SEO expertise and fully integrate into your wider ecommerce website design.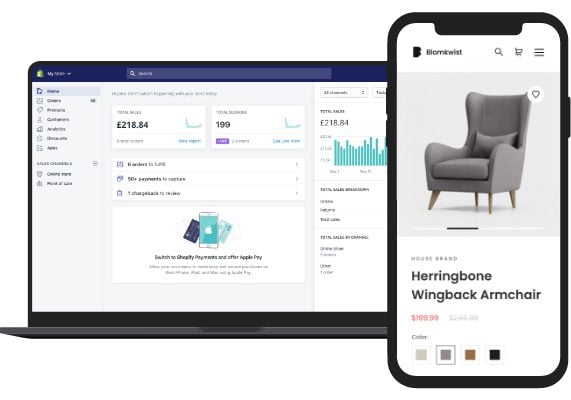 TESTIMONIALS
"We'd highly recommend Xigen to any ecommerce business looking to take things to the 'next-level'. We rely on their expertise and technical knowledge to help us grow in an ever evolving and complex digital World."
Gary Thompson, Jackson's Art Supplies
"Their speed and diligence always impresses us, as does the depth of knowledge and resources available to them. Xigen had no problems understanding the brief in context with the competitive environment, quickly translating our designs, wireframes, and requirement-stories into a slick and impressive front-end experience."
Akshay Patel, Dunelm
"We have more than doubled daily revenue since launching your checkout, this is mostly due to us improving and ramping up marketing efforts, but that has been entirely enabled by having the confidence in reliable checkout that works for everyone which is down to you guys."
Nick Horsley, Kokoon
"We believe that once launched ukprinting.com, along with our market leading packaging site ukpackaging.com, will move us closer to our target of £10 million annual sales."
Richard Tyler, 3P Direct Ltd
"Having worked with Xigen in the past we value their expertise in the ecommerce space. In particular, we like the fact they offer a one-stop shop for ecommerce, as demonstrated by what they have done with the redesign and replatforming of our site."
Mark Rodol, Models Own
"Having used various agencies in the past, we can say with confidence that the support from Xigen is second to none! Our unloved Magento site is finally getting the attention it deserves."
Sarah Binns, WindowWare
"Xigen are able to translate our business requirements, push digital barriers and deliver high-end customer experiences. Their transparency and constant communication is a breath of fresh air."
Rob Cary, NHBC
Shopify eCommerce Frequently Asked Questions
It's important to understand which eCommerce platform is the best option for your business. That's why we've put together this collection of Shopify eCommerce questions to help.
How much does it cost to develop a Shopify eCommerce website?
As with most websites, Shopify websites can be developed very cheaply as a do-it-yourself project. Costs for developing a professional Shopify eCommerce website design depend on specific requirements.
In addition, Shopify charges a regular subscription fee to allow businesses access to its service. Charges vary depending on the service level required. Shopify also takes a commission of up to about 2% on each item sold.
Do I need to be a designer or developer to use Shopify?
Shopify is designed to allow anyone to set up a store, but ensuring it is the best it can be for your brand - and delivers to its potential - requires expert input.
There's no replacement for expertise and experience and hiring a professional enables you to do what you do best within your business, and for someone else to focus on the task of making use of the latest tools and insights for your eCommerce store.
Are Shopify stores fully customisable?
Yes they are, and that's one of the attractions of Shopify. It's possible to tap into all the seamless efficiencies of its eCommerce structures whilst maintaining the integrity of your brand.