WHY WORDPRESS?
Powering 33% of websites on the internet, WordPress is the world's favourite content management system (CMS).
WordPress's popularity is well deserved, offering businesses great looking, user-friendly websites, used by big brands such as, Spotify, IBM, The New York Times and UPS.
WordPress websites are a perfect fit for a multitude of businesses and brands. Whether it's a sleek, sophisticated-looking website or a quirkier, more idiosyncratic look, WordPress enables straighforward development of original, attention grabbing content and user interfaces. Positive user experiences make successful websites, growing brands and nurturing audiences.
Talk to one of our WordPress specialists today
Get in touch

Xigen & Wordpress
Although WordPress is known for its plugin architecture, we prefer to use PHP coding for development, as this not only provides flexibility for more customised builds, it helps eliminate security concerns that you might have associated with plugins.
Our highly experienced WordPress design and development specialists will work with you to understand your business and brand so we can build the perfect WordPress website, tailored to your specific business requirements.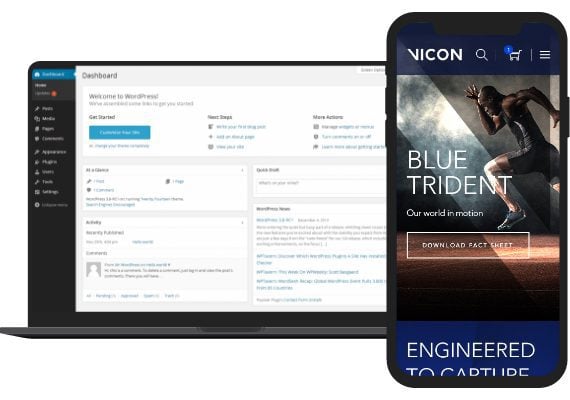 TESTIMONIALS
"Xigen created a fantastic user experience in-store, enabling transactions to be completed quickly and effectively. The bespoke checkout solution worked perfectly, both for the customer buying in-store via the iPad and the Epson team managing the orders."
Lucy Brackett, Epson
"As we establish our unique position in the market, we need to quickly and clearly communicate who SalesTrip is and what benefit our ROI-driven travel and expenses system delivers to target audiences around the world. The website that Xigen has been able to quickly create allows us to engage with these audiences and other key influencers in exactly this manner."
Kate Fletcher, SalesTrip
"After eight successful years working with Xigen we have almost without exception accepted all Xigen's recommendations which has resulted in a strong increase in online users, orders and revenue. The value they have added to us as a business has been immeasurable."
Gary Thompson, Jackson's Art Supplies
"We appointed Xigen because of their expertise in creating high quality websites that engage with the global audiences, and we have not been let down. I'm delighted with the new website Xigen has designed and implemented."
James Raffo, Mycab
"Xigen are the best web agency I've worked with. Website projects can be stressful – especially the week the site launches – but if you're working with Xigen you know they will be calm under pressure and laser-focused on customer service."
Catherine Nottage, Kognitio
"Our new site has cemented our strong local SEO credentials across all localities. The site is easy to update with fresh content and the blog a useful tool in our social posting approach. Xigen have been accommodating and more than patient with us along the way."
Angus Matthew, Avery
"Their speed and diligence always impresses us, as does the depth of knowledge and resources available to them. Xigen had no problems understanding the brief in context with the competitive environment, quickly translating our designs, wireframes, and requirement-stories into a slick and impressive front-end experience."
Akshay Patel, Dunelm
"Have worked with Xigen for many years supporting a diverse range of sporadic requirements, for myself and my clients. They always deliver. Offer honest advice, and execute to the high standards we demand. A pleasure to work with."
Sam Furr, Tappable
"Xigen are able to translate our business requirements, push digital barriers and deliver high-end customer experiences. Their transparency and constant communication is a breath of fresh air."
Rob Cary, NHBC